Page 3 of 6
Quiet Please
We know them, and we know them well. While being told to stand still as you attempt to make your way toward the beer stand isn't much fun, without the 1,100 volunteer marshals acting as crowd control, taking in all the action at the FBR Open would be far more difficult. John FitzMaurice, chairman of the marshals, says keeping everything under control stems from a hierarchy of the marshals.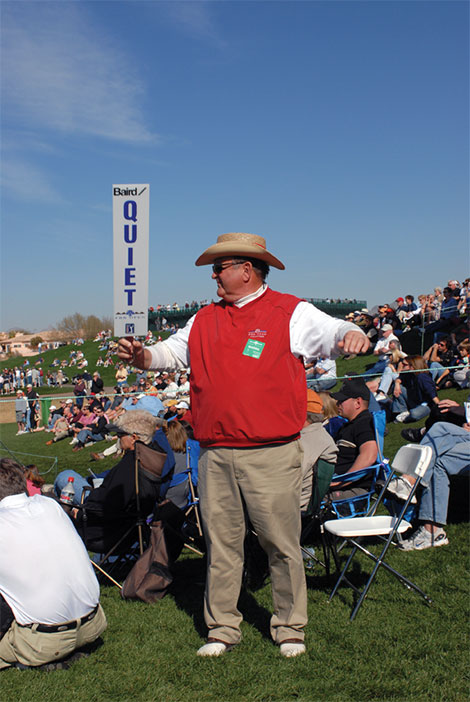 "I am the chairman?I have two supervisors; one on the front nine, one on the back nine, and then there are two captains on every hole," FitzMaurice explains. "The two captains coordinate the marshals for a specific hole."
Approximately 400 marshals man the grounds at the FBR at any given time during the tournament week. Although a marshal's primary role is to minimize the crowd's effect on a player's round, FitzMaurice notes that sometimes the opposite can't be avoided.
"I had a marshal one year, who was spying on a fairway," FitzMaurice says. "He couldn't see the players [on the tee] because there was a tree in his way, so he moved out into the fairway a little bit. He put on his binoculars to see the tee and watched them hit. And I've always told these guys if you count to a certain number, then watch out because the ball is going to fall. So he's looking up and decides 'I better move.' As soon as he does the ball lands right where he was just standing. The pro came up to him and asked 'Did we hit you?'
The marshal said 'No, you missed me.'
'Did you see the ball?' the pro questioned.
'Yeah, the end.'
'Well, we hollered Fore.'
The marshal said, 'Well, I'm not only blind, I'm deaf too.' So he no longer works the fairway, but that's a funny story."
Most Memorable FBR Open Moment:
Watching Phil Mickelson give a pair of Superbowl tickets to a father and son at the 2008 FBR Open.