Page 4 of 5
Watch the Dog Whisperer- May 15!
If you can't watch the Dog Whisperer on May 15 at 2 p.m., record it. Don't miss this – it's a rerun of the series on National Geographic channel in which Cesar Millan takes on the horrors of the puppy mills. Cesar went undercover with Last Chance for Animals – (LCA) and its founder Chris De Rose.
Chris was just in town at a gathering at Dr. Deborah Wilson's Paradise Valley home. He's pictured below with Arizona Attorney General Terry Goddard and a dog rescued from a raid in Colorado puppy mill two months ago, now recovering from successful surgery and being fostered by a Scottsdale family.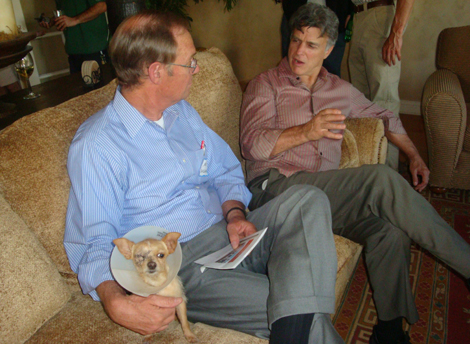 Chris has been going undercover for years, investigating puppy mills, the large operations which breed domestic animals for sale as pets. On the May 8 and then 15th episode of the Dog Whisperer show, Cesar addresses the need to help rehab these dogs who have never known a life outside the mills, many raised in cages with overcrowding and deplorable conditions. Of LCA Cesar says, "They do the physical rescue, I do the psychological rescue.. together it is a team!"
About 120 people turned out for the meeting, hosted by Phoenix Animal Care Coalition, Goddard noted that the meeting helped educate him about the specifics of puppy mills. "Many people don't know that the puppy they are buying is a product of that extraordinarily vicious- and I believe criminal – kind of business," he said. Congressman John Shadegg was also there.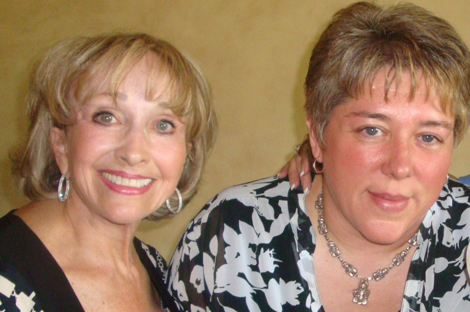 Pictured above is Bari Mears, founder of the non profit PACC with Theresa Strader, a pediatric oncology nurse from Colorado who founded National Mill Dog Rescue. She helped rescue the dog pictured above from the Colorado puppy mill and arranged for it along with others to be brought to the Arizona Chihuahua Rescue in Phoenix. The dog rescued from the puppy mill is recovering fine after the surgeries --- thanks to the expertise and TLC of vet Dr. Nancy McEachern of Sundance Animal Hospital.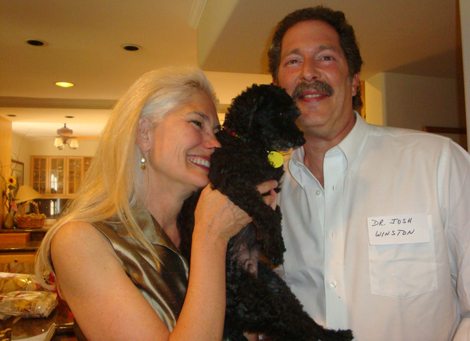 At that meeting, Dr. Deborah Wilson chatted with veterinarian Dr. Josh Winston, about the dog saved from a euthanasia list (pictured above).
Continued on next page. To read on, cick the next button below.