Page 2 of 5
Hot off the AZ INSIDER online presses…..

Tony award winning actor Harvey Fierstein set a fire in the Valley. No, not the one in Arizona Attorney General Terry Goddard's garage this week. That fire, with witnesses reporting 40 foot shooting flames, was started from an electrical malfunction of a refrigerator and the outlet.
Harvey – (whom I loved in Fiddler on the Roof on Broadway and in the movie Mrs. Doubtfire, among his other roles) ignited contrasting emotions at the Night for Life Gala, the benefit for the Southwest Center for HIV/AIDS. The talented funny man with the gravel voice who led the evening's festivities- had the 680 guests laughing and crying.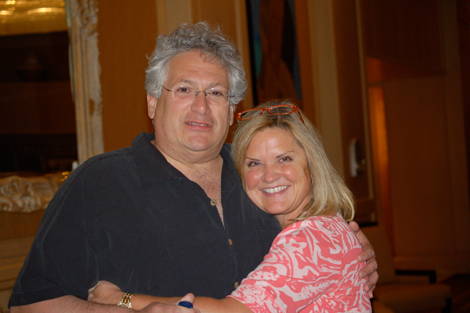 "He spoke from his heart, telling the stories of how many actors that have died from HIV/AIDS," notes Lisa Molina, pictured above hugging Harvey during rehearsal. Harvey has been a very vocal and influential ambassador for HIV/AIDS prevention.
"Harvey told me that half the cast from La Cage aux Folles died from HIV/AIDS and that three of his dear friend's ashes are buried on his farm property in rural Connecticut," added Lisa who co-chaired the event at the Phoenician with Tom Betz. It raised an impressive $400,000.
About $6,000 of that was collected by the actual drag queens roaming the room with ceramic piggy banks – asking people for cash donations.
By the way…Lisa's husband jeweler Al Molina, just returned from Florida where he gave the commencement speech at Saint Leo University. His son Derek was one of the graduates, receiving his diploma on stage from Al who sits on the University's board of trustees.
Continued on next page. To read on, cick the next button below.