Page 3 of 5
Paradise Valley Women Nominated for Nobel Peace Prize
The AZ Insider is breaking this story… Two Paradise Valley women have been nominated for the 2009 Nobel Peace Prize! And it's the fourth such nomination for Sara O'Meara and Yvonne Fedderson, who founded Childhelp USA, The non-profit organization dedicated to the treatment and prevention of child abuse and neglect.
"We are so proud that the international organization is based in Scottsdale and its award winning work of its advocacy center in Phoenix, which is one of Childhelp's four advocacy centers in the country, "said Governor Jan Brewer. The governor joined the women for Childhelp's 50th anniversary fundraising dinner of 600 guests last week in San Diego on the USS Midway aircraft carrier.
In a dramatic grand entrance, serenaded by a Marine Corp band, the governor (security detail), O'Meara and Fedderson arrived by Navy helicopter, landing on the carrier's deck. The helicopter escort from San Diego's Montgomery Field to the event was in honor of O'Meara and Fedderson's involvement with the military in the 50's and 70's, helping to save the lives of orphaned children in Vietnam and Korea.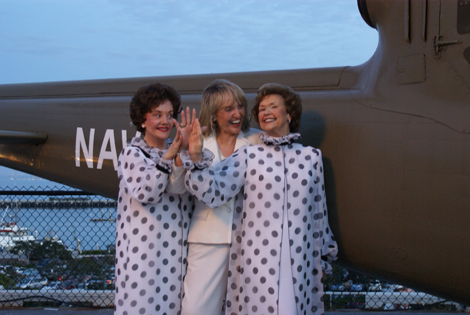 Those polka dot outfits the women are wearing pictured above with the Governor? They are duplicates of their attire on the USO tours in the late 50's while entertaining the troops in Korea and Japan.
Continued on next page. To read on, cick the next button below.