Television personality and AZfoothills.com columnist Nadine Toren is scouring the area, finding savvy Valley features, bringing readers "on the scene." Every day she'll introduce you to celebrities, athletes, and give you an inside look into local events and hot spots. She'll touch on topical issues, and keep AZ fans posted on all the big talkers around town.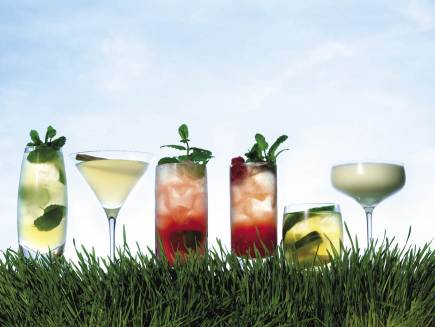 Planning a springtime soiree?  Well, you'll want to choose wisely before reaching for a bunch of booze.  We've got the skinny on light cocktails. 
Take your pick:  two typical 12-ounce restaurant-style margaritas, or an In-N-Out burger, fries, and shake.  Well, here's the unfortunate reality.  According to Valley nutritionist Ben Brown, each option has an equal amount of calories—so you might want to pick your guilty pleasure wisely.
Here's the skinny.  We all crave a refreshing hot day drink infused with a little liquor; however, if you want to maintain that bikini body, pour with caution (and in moderation).
Sorry to be a buzz-kill, but we're breaking down booze and cocktail calories.
According to Brown, owner of Body Systems AZ, a common light beer has about 110 calories, while something like an IPA can reach to nearly 200.  (www.bodysystemsaz.com)
When it comes to alcohol, you're looking at about 100 calories per shot, so take that tequila shooter with moderation.
And consider this.  A glass of vino averages about 100 calories, but how often do you only have one serving of wine?
Here's the good news: Brown says booze is not the main factor when it comes to fatty drinks; he says the big culprit is mixers.  (So bid farewell to your beloved piña colada concotions and creamy cocktail blends.)
Yep, before you reach for that mixed drink at your spring-time soirée, take into account the following information, courtesy of www.Forbes.com:
An average size Mai Tai has 350 calories.
An average-size White Russian has 425 calories.
An average-size Piña Colada has 644 calories.
An average-size Margarita has 740 calories.
And drum-roll please......an average-size Long Island Ice Tea has (a whopping!) 780 calories.
To avoid these caloric delights, Brown suggests opting for liquor on the rocks with a splash of club soda and a squeeze of lemon or lime.  And to dress your cocktail, add fresh fruit.
HOWEVER, if you want a savvy skinny sipper, we're here to help!  Check out the below cocktail recipes containing the Valley's Arroyo Vodka available at AZ Wine Co.
Arroyo en Fuego (approx. 153 calories)
2 oz Arroyo Vodka
4 oz Soda Water
2 slices cucumber
4 slices jalapeno
2 tsp fresh lime juice
2 tsp agave nectar
*Combine jalapeno and Arroyo (muddle to release additional spiciness from jalapeno if desired), add cucumber, lime, and agave. Stir well. Pour over ice and mix with soda water.
Arroyo de Arcadia (approx. 200 calories)
2 oz Arroyo Vodka
2 oz Orange Juice
1 oz Grapefruit Juice
2 tsp Agave Nectar
2 oz Soda Water
Garnish with mint
*Mix Arroyo, juices, and agave. Shake ingredients with ice, strain into a cold martini glass and top off with soda water. Garnish with mint.
Arroyo Verano (approx. 174 calories)
2 oz Arroyo Vodka
4 oz Soda Water
2 cubes of Watermelon
4 Cilantro Leaves
1 tsp Agave Nectar
*Muddle and/or infuse watermelon and cilantro in Arroyo. Strain cilantro and watermelon out, removing all solids. Pour over ice, add soda water, agave nectar, and stir. Garnish with a cube of watermelon and sprig of cilantro.
Pomarroyo (approx. 178 calories)
2 oz Arroyo Vodka
2 Tbsp Pomegranate
1 Key lime Squeezed
1 Basil Leaf
4 oz Soda Water
1 tsp Agave Nectar
*Muddle and/or infuse pomegranate and basil into Arroyo. Strain to remove all solids. Mix in key lime, add ice, top off with soda water and stir. Add pomegranate seeds to garnish.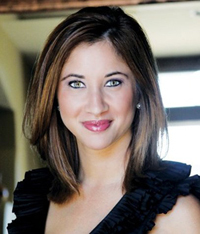 Click here to Like Nadine on Facebook