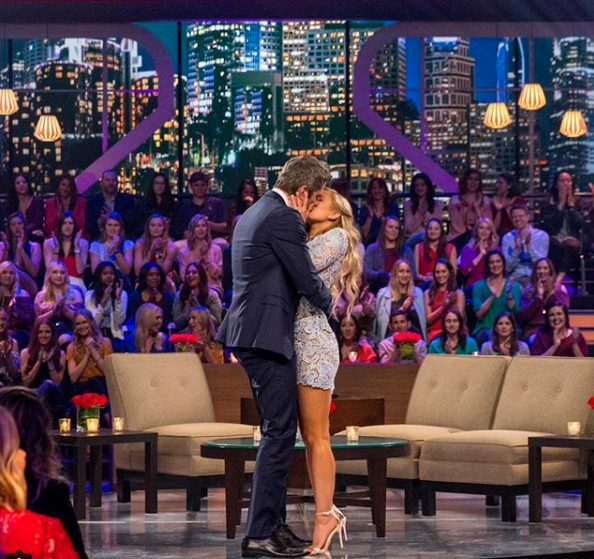 You know that feeling when you watch a TV show or a movie and feel like you're best friends with the main characters because you basically hang out with them every week for about an hour and a half? What about that moment when you meet them face to face and realize this friendship is totally one-sided? Yeah, I didn't know what that felt like either until last week when I met Arie and Lauren B. from this season's "The Bachelor."
With her recent move to the Valley, "The Bachelor" sweethearts hosted a meet and greet for their Arizona fans at Old Town's newest local hot spot. Three Wisemen. This fun and cozy bar is the perfect place to spend the evening listening and dancing to good music, savoring delicious food and cocktails, or just hanging out on the patio.
Although there were lots of twists and turns in their story, true love prevailed and now they are the cutest lovebirds ever. Whether they were cuddled up on the booths, sippin' mimosas, stealing smooches or tearing up the dance floor, it was apparent that Arie chose the right Lauren and this was meant to be.
And after the interview, I came to the conclusion that Arie and Lauren are literally couple goals.
Photo by: Christopher Cashak
AFM: So Arie, looking back in our archives, I noticed that you were featured in our Most Eligible Phoenicians once upon a time. Can you tell me a little bit about that?
Arie: Haha, yes I was. I think it was back in 2014? Yeah, 2014. It was a fun experience, and if people are thinking about participating they should check it out!
Most Eligible Phoenicians in the magazine's annual feature that spotlights sexy, successful singles in the Valley. See what Arie had to say in the original feature here.
AFM: What romantic spots have you taken Lauren to around the Valley?
Arie: I have a motorcycle so we rode out to Cave Creek yesterday, and that was fun because I got to give her a fun tour of the landscape, since it is not at all what she is used to. It's kind of funny because she'll see something and freak out. Like, she was amazed by all the cacti and when she saw her first Palo Verde tree she was so confused and kept saying things like "the trees are green here, like the bark is green." It's really funny. We've also gone to eat at The Mission, walked around Scottsdale Quarter and, oh yeah, we hiked Camelback Mountain.
Lauren: Yeah he keeps laughing at me every day when I notice something new and get excited. I am still not used to the green tree thing. The motorcycle ride was super fun and there were many pretty views to take in. I have never ridden on a motorcycle for so long, so that was interesting. My helmet hair was probably super cute. The Quarter is beautiful, that's where he bought me this dress. I wasn't feeling so hot, so we went shopping at a place called Intermix and he bought me this dress. So cute. Also, yeah, we hiked Camelback, but he forgot to mention the part where you have to basically rock climb at the top! We were literally on our hands and knees. I mean, it was worth it when we got to the top and saw the view, but a little warning would have been nice! Oh, and the other day there was a javelina in our condo complex!
Arie: *Laughing* It is so random they are always just hanging out in our parking lot.
Lauren: He was like slowly turn around and walk back to me…it was bizarre.
AFM: What are you planning on doing next?
Arie: I am planning on taking her to the Wrigley Mansion next. It will be a fun thing for us to do since I have never been there before either, and I think I'll book her a spa day at the Sanctuary, since 'resort days' are a huge thing to do here. This weekend, we are going to Long Beach for one of my races so it'll have to be after we come back.
Lauren: I am going to make him come with me [to the spa]. Maybe we'll get matching mani-pedis or a couples massage. *She hinted with puppy dog eyes.* I am super excited for the race in Long Beach because I get to ride passenger in his car!
AFM: What is your favorite restaurant around here?
Arie: Oh man, that's a hard one. There are so many. I would probably have to say any of the Fox Concepts Restaurants but I really like North, True Food, and Postino. Chelsea's Kitchen is also very good and of course Mastro's. She mentioned that she has been noticing a lot of similarities between Dallas and Scottsdale in the vibe and the restaurant scene so I am trying to take her to all the best spots around here.
Lauren: Yeah, I've only been living here for like four days but so far everything we've tried has been super tasty! I can't wait to try his other favorites. Oh, and I've noticed that people are really nice here, like everywhere we go people are super kind.
AFM: So, I read online that you guys are talking about doing your own show. If that's true, how's that going?
*Arie and Lauren shook their heads in confusion and laughed.*
Arie: Nope, that's definitely not true.
Lauren: Yeah, absolutely not. I think one show is good enough for us.
AFM: I don't know if you guys are hockey fans at all, but the Arizona Coyotes are big fans of "The Bachelor" and about a month or two ago I got to interview them about their thoughts and predictions and things got pretty funny. Did you happen to watch any of their videos?
Arie: Oh yeah, I saw that on Twitter! It was hilarious! I was laughing out loud. I don't ever retweet anything but I retweeted one of their videos because it was so spot on. Especially from a guy's perspective.
Lauren: Yeah, I watched them too and I was dying! It was just so accurate and I loved their input on all of the girls. They got so into it. One of them even said, "I think there's a snake in the grass", like, they had to have been paying close attention to what was going on because this season the girls, for the most part, were pretty chill.
To read the Tough-Guy-Tell-All interviews with the AZ Coyotes click here.
AFM: I know that as the show was airing you guys were already happily coupling it up, so was it hard having to basically play hide and seek from the public?
Arie: So, during that time you get "happy couple weekends" and it wasn't really! It was pretty awesome actually. It was so fun because we felt like we were being mischievous all the time, and it felt like we were sneaking around. During those weekends we would basically just cook all day and hang out. We did sneak out a few times to the beach in Santa Monica and Charlotte and to go hiking. Oh! And she wore a wig once.
Lauren: Yeah, I picked him up from the airport in full disguise. I wore a brunette wig, a hat, and glasses… I think I might have taken it a little far, but whatever, that was the fun of it! They [the "happy couple weekends"] are all planned by production but the getaway to Charlotte was planned by us. We rented a cute and cozy beach house and had fun sneaking out to the beach and lounging.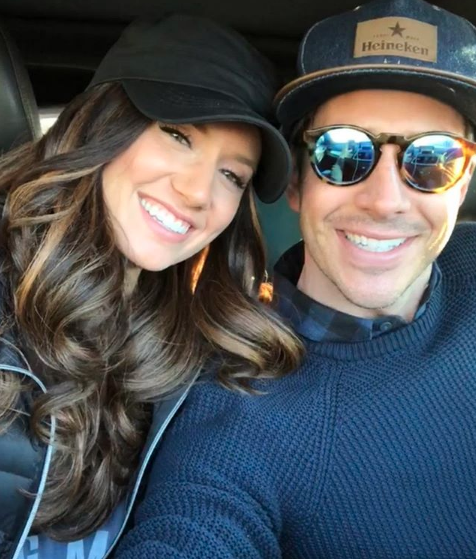 So… yeah, after watching the full season, every single Monday, my life came full circle when I got to meet Arie and Lauren and they are just as adorable as you would expect them to be. Oh, and to top it off, Lauren and gave me her final rose and I got to live my best life.