Page 1 of 5
From cookie-making and board game-playing to an elf named Shiny, five Valley families share their merriest holiday traditions and memories.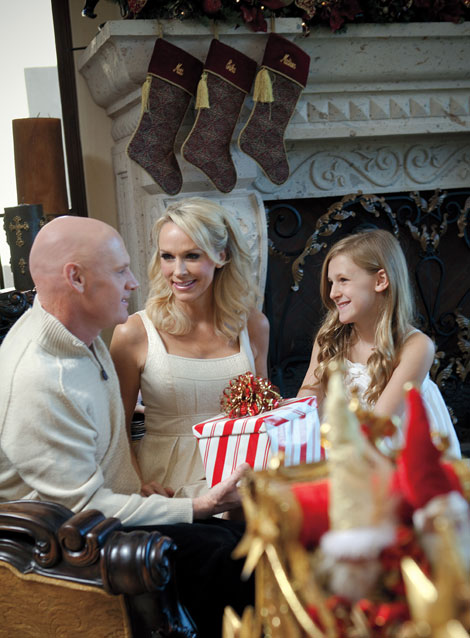 Photographed by Cassandra Tomei
THE WILLIAMS FAMILY Matt; Erika; and Madison, 8
At the house of Matt Williams, former Arizona Diamondbacks third baseman and his wife, Erika, of lifestyle Web site, www.thehopelesshousewife.com, and former 3TV anchor, the holidays wouldn't be the same without karaoke, Beef Wellington and one magical ferris wheel.
What's your favorite holiday tradition?
Erika: Decorating the tree with our whole family, playing old-fashioned Christmas music and drinking Christmas cocktails, of course! I always get a little crazy with karaoke and sing Christmas songs while Matt sits and listens in horror. It's pretty funny. We love to laugh!
Do you have any travel plans this season?
Matt: Every year we have big ideas in the fall about what exotic place we will travel to at Christmas, and we always end up staying at home since the weather is so spectacular here. Our house is the destination for most of our friends and family during the holidays.
What's the greatest holiday gift you have received?
Madison: My American Girl camper. It was set up with dolls inside and a mini campfire with a s'mores kit and everything. It makes me want to go camping in a big RV every time I see it.
What are you looking most forward to this season?
Madison: I love to bake cookies and treats for everyone, especially for Santa and the reindeer.
Erika: Cooking new holiday recipes and inviting people over to eat and drink. It's been a long and amazing year. We have lots to celebrate, and I'm ready to start.
Matt: Just having downtime with family. The baseball season brings a lot of travel, so it's nice to have time off to just hang with the family. And football, of course. Besides the Cardinals, I'm a long-suffering Chargers fan. Erika bought me a 'lucky' Chargers shirt. I'm hoping it kicks in this season.
How does having children shape the holidays?
Matt: Well, it completely shapes the holidays for us—we wake up at the crack of dawn since Madison can't wait another minute to see what Santa has brought us. We all get into the spirit even more having a young child in the house; it makes it even more fun.
What's on your wish list?
Madison: Mini English bulldog and a clothes-designing kit. Could I also put the new iPad on my list?
Matt: Could I ask to be 30 again?
Erika: Could I ask to be 20 again?
Favorite holiday…
Song: "Sleigh Ride" because it's hilarious to watch my family cringe when I belt this out while it plays. We all laugh when it comes on. I can't help but still love the 80's song, "Do They Know it's Christmas?" It brings back memories.
Food:  Erika's Beef Wellington, Matt's world-famous mashed potatoes and Erika's mom's ambrosia salad.
Decoration:  We have a great elf ferris wheel; it's pretty magical.