Page 2 of 5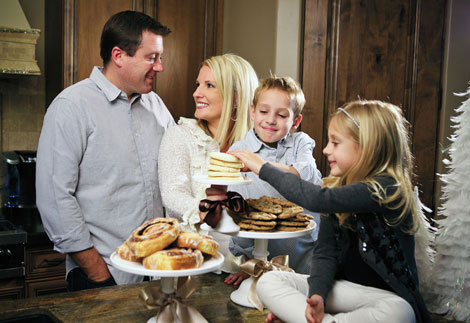 Photographed by Chadwick Fowler
THE STOEGBAUER FAMILY Dan; Kim; Tommy; 7; and Kate, 5
Kim Stoegbauer knows a thing or two about decking the halls; she is a party stylist and founder of the ever-popular TomKat Studio. This Christmas, expect white twinkle lights, fresh-baked cookies and stuffed stockings from this Chandler family.
What's your favorite holiday tradition?
Kim: One of my favorite holiday traditions is Elf on the Shelf. While Shiny, our elf, has only been visiting us now the last two seasons, he creates excitement every morning until Christmas. The kids wake up so excited to discover where he has cleverly hidden each night.
Dan: One tradition that I loved as a kid was St. Nick's Day. On the night of Dec. 5, the kids put out their stockings and, sometime during the night, St. Nick fills them with candy and toys. We do the same tradition with our kids, and they absolutely love it.
What's the greatest holiday gift you have received?
Tommy: The best Christmas gift I have ever received was a basketball hoop. I love to shoot hoops with my dad and my friends in the backyard.
Kate: My favorite Christmas present was when Mommy and Daddy surprised us with our first trip to Disneyland.
What are you looking most forward to this season?
Kim: I love what the holiday season represents: a time for being with family and friends and celebrating the season. I am also looking forward to decorating for the holidays, as I plan on switching up our color scheme and style this year. Don't tell my husband that it won't be the traditional red and green, as usual. He always hopes for colored Christmas tree lights, but I don't think he'll ever win that battle!
What's been your fondest holiday memory?
Kim: My mom has always baked a variety of Christmas cookies each year. Now that I am grown with kids of my own, I really love baking with her and involving the kids. They love to sit on the counter and help with every aspect of the process, especially decorating the gingerbread cookies and sugar cookies with fun sprinkles.
How does having children shape the holidays?
Kim: Having children has made the holiday season better than I could have ever imagined. There isn't anything as priceless as their excitement for the season. Our kids love getting out the Christmas decorations and helping find places for everything. They love all of the classic Christmas traditions and being with our family.
Favorite holiday…
Song: "All I Want for Christmas is You" by Mariah Carey.
Food: Holiday desserts.
Film: "Love Actually."
Decoration: Our fireplace mantel with stockings.