Come one, Come all to Valley Youth Theatre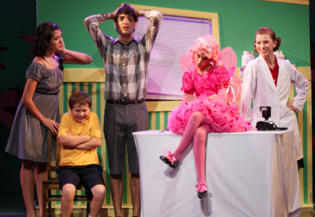 The Valley Youth Theatre is an incredible place where young people can learn and grow as creators and performance actors. The Theatre was established in 1989 to create a unique opportunity with children to participate in orchestra, technicians, and actors. Valley Youth Theatre is a world-class, nationally recognized non-profit theatre which targets young people from the ages of 3 to 19. The theatre wants to inspire young people to be the best that they can be. VYT is an award-winning theatre, and was recently selected as "Best of Arizona Children's Performing Arts" and received the 2008 Governor's Arts Award for Arts in Education. The Theatre offers a variety of classes for young children and young adults to take like Introduction to Improv, Musical Theatre, Acting Technique, Acting OUT. These classes run once a week for about 8 weeks. There are also weekend classes like Play Pretend and Musical Theatre.
Many great actors have attended this program, like American Idol, Jordan Sparks and Disney Channel's Chelsea Kane, and Broadway Star, Max Crumm.   However, their must successful student is Hollywood Star Emma Stone, who just stared in the hit movie The Help. Emma's part show credits with VYT include Otter in The Wind in the Willows (ariZoni Nomination and Drama Beat Award), two seasons as Eeyore in A Winnie-the-Pooh Christmas Tail (ariZoni Nomination), Old Queen Maude in The Princess and the Pea (ariZoni Award), Portia in Cinderella (ariZoni Award, Maxie Honorable Mention), and ensemble roles in both productions of The Wiz. Emma's most recent VYT credits include Stewardess Robinson in Titanic Dot and Mother Swan in Honk!, Rabbit in A Winnie-the-Pooh Christmas Tail, Great Mother in The Little Mermaid Dori in Schoolhouse Rock Live! Tweedledum in Alice in Wonderland Ensemble/Wives in Joseph and The Amazing Technicolor Dreamcoat.
Contact the theatre to find showtimes for the thatricals Dora the Exploror, Freckleface Strawberry, A Winnie the Pooh Christmas Tail, and Charlottes Web
For Tickets call the Valley Youth Theatre Box Office at 602-253-8188 x2