Page 8 of 11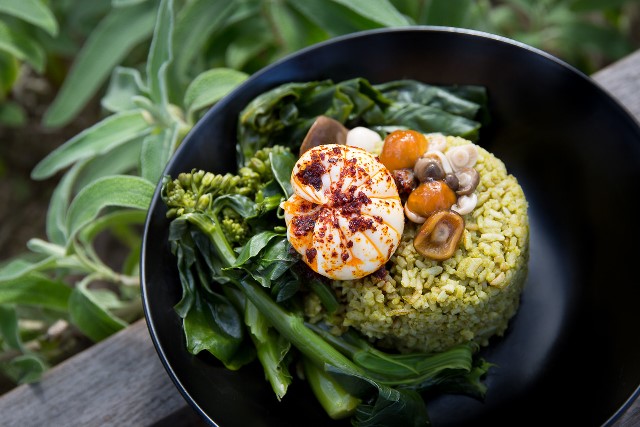 photo: Debby Wolvos
As it's located at Desert Botanical Garden, diners are guaranteed surroundings that are as beautiful as the dishes in front of them (plus, a few friendly critters might pop in to say hi). Be sure to request a patio seat to enjoy Korean fried chicken thighs, blackened scallops and more on its seasonal menu. For dessert, try the carrot custard for a unique sweet that won't disappoint. gertrudesrestaurant.net.
Chef Vincent Guerithault brings his training in classic French cuisine to the table at Vincent on Camelback (which has been in around for more than three decades) and pairs it with the unique ingredients only the Southwest can provide. Although set in Phoenix, the restaurant's charming atmosphere and exemplary staff will make guests feel as though they're spending the evening in France. vincentsoncamelback.com.
Blue Hound Kitchen + Cocktails
In the heart of Downtown Phoenix, Blue Hound Kitchen + Cocktails is a relaxed neighborhood joint with a stellar bar program where diners can get comfy and breathe easy amidst the bustling cityscape. Blue Hound Kitchen has dozens of hanging lights, wood floors, wood-slatted ceilings and a bright, welcoming ambience to gather with friends. One of the newest stars on the cocktail menu is Boba Tea, with black tea-infused Titos Vodka, chai vermouth, coconut milk, cinnamon, tapioca pearls and and nutmeg. bluehoundkitchen.com.
A gourmet gastropub in Downtown Scottsdale, FnB employs a mix of modern and classic style interior with elaborate lighting and chandeliers overhead. A farm-to-table experience, many of the ingredients that go into their dishes come from local farms—and FnB prides itself on offering a variety of Arizona-sourced wines by the bottle. FnB's menu changes with the seasons. fnbrestaurant.com.
Employing the robata Japanese-style cuisine, Roka Akor is a Japanese steakhouse, seafood and sushi restaurant in Scottsdale that exudes energy and sophistication. Food is cooked on a 12-ft. robata grill with mesquite charcoal and almond wood. And it's bound to get hot—this grill, similar to a barbecue, can get up to 1,900 degrees. rokaakor.com.
With gorgeous execution and fresh ingredients, The Parlor offers magnificent Italian fare in a jovial setting. Get your pizza fix, but do it with style and sophistication. The restaurant has its own gardens where produce is freshly harvested, and everything from pastries to pastas are handmade daily. Wood-fired pizzas include varieties like the Smokey pizza (speck, smoked tomato sauce, olive tapenade, ricotta, smoked mozzarella and arugula) and the Spicy Florentine (sautéed spinach, garlic-smoked mozzarella, parmesan , ricotta, Calabrian chile and garlic bread crumbs). theparlor.us.