Page 10 of 11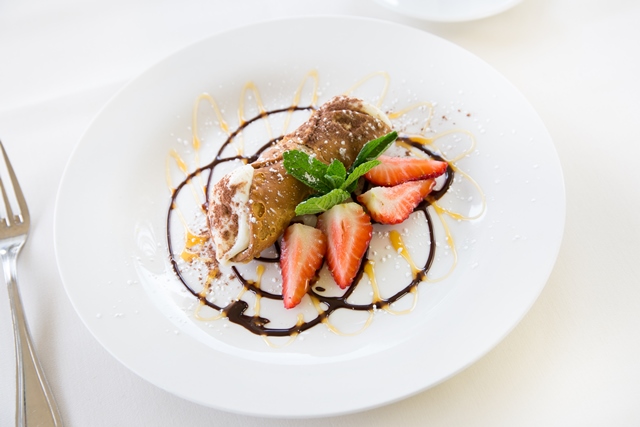 photo: Debby Wolvos
Located at the recently renovated Royal Palms Resort & Spa in Phoenix, T. Cook's serves fresh, seasonal provisions with a Mediterranean flare. Plan a romantic date near one of the restaurant's cozy fireplaces or gather at one of the open-air tables to immerse yourself in the pretty setting. Breakfast, lunch, dinner and the 7-Day brunch menu are offered. tcooksphoenix.com.
Postino Winecafe, with popular locations Valleywide, is known for its delicious and wide selection of bruschetta and expansive wine-by-the-glass program. Paired with a glass of wine and a group of good friends, this is the perfect place to spend a relaxing evening in a modern, lively environment (if you get seated in one of the cozy couch areas, even better). Order the pub board with soft pretzels and aged cheddar to start, and keep an eye on weekday specials. postinowinecafe.com.
A part of the Scottsdale luxury boutique hotel, The Hermosa Inn, LON's serves gourmet globally inspired Arizona fare including brunch (on weekends), lunch, dinner, drinks and dessert. The kitchen regularly hosts fun cooking classes and beer and wine dinners, even though a typical weekday night is worth celebrating with Executive Chef Jeremy Pacheco's pecan-grilled filet mignon or sweet corn agnolotti. hermosainn.com/lons.
If the chic, mid-century modern good looks of ZuZu at Hotel Valley Ho don't immediately draw you in, its scrumptious menu will. Start with a small plate of buttery Hokkaido scallops before digging into the Baker's Bacon Chop (you may want to loosen up that belt first), as it's the only dish like it in the Valley. For a real treat at the end of the repast, stick a spoon, fork and straw in the larger-than-life Show Stopper Shake. Heck, it has its own hashtag: #zuzushowstoppershake. hotelvalleyho.com.
Since 1977, Chef Tomaso Maggiore has been dishing up authentic Italian eats (he was born in Italy, after all) along the Camelback Corridor in Central Phoenix. At the recently-revamped restaurant, you'll find regulars who visit week after week, ordering their same favorites each time—many of whom have become like family to Chef. Order any of the pasta dishes, and you won't be disappointed. Plus, Chef Maggiore recently opened Tomaso's When In Rome in North Scottsdale, serving Roman classics, like the simply decadent cacio y pepe. tomasos.com.
All-star chef Kevin Binkley is up to his old tricks at Binkley's new location in Phoenix. (He shuttered his original, highly revered outpost in Cave Creek last year.) At the restaurant, guests are treated to a multi-course, three-and-a-half-hour tasting menu. Though the meal runs $165 per person (not including add-ons or wine pairings), a meal from Chef Binkley is a memory-making experience. Only 24 spots are available each evening, so reservations are a must. binkleysrestaurant.com.