Page 7 of 11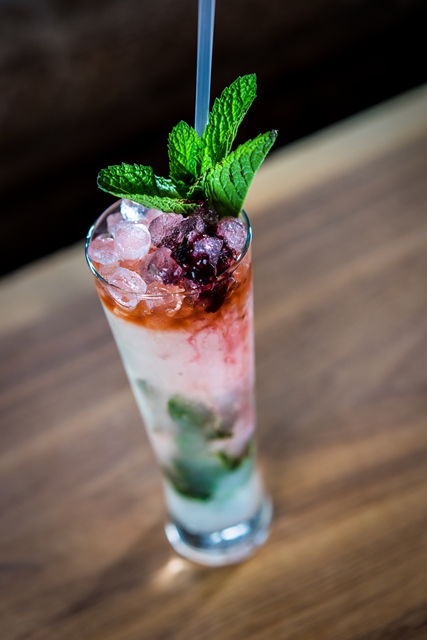 Bitter & Twisted Cocktail Parlour (pictured)
Since opening its doors in 2015, Bitter & Twisted Cocktail Parlour has become the top spot in Downtown Phoenix for innovative, sometimes over-the-top cocktails. Its Book O' Cocktails (which is a work of art itself) features dozens of unique and delicious offerings, whether you want something timeless and traditional or outside of the box—or cup, rather—like the colorful Taste the Rainbow, perked-up Déjà Cold Brew or Her Name is Rio, with blackberry compote (pictured). Hungry? You can't go wrong with Chef Bob Tam's ramen "Momo" burger, served on crisp ramen buns. bitterandtwistedaz.com.
New-ish to the Phoenix dining scene, Ocotillo has already made a good impression thanks to its New American menu—with an Arizona flair—and its too-cool outdoor dining spaces. Though sizable fish, meat and pasta entrees are available, order up several ever-changing small plates and salads and grab a spot at the high-rise community table. Need a pick-me-up? The on-site coffee bar is open until 2 p.m. ocotillophx.com.
From his James Beard Foundation Award to his 30-plus years of experience, Chef Nobuo Fukuda has long been a culinary tour de force in the Valley. At his Modern Japanese restaurant in Phoenix, Nobuo at Teeter House, the gourmet genius dishes up the super-inventive and artful omakase that he has become known for. Keep a close eye on the Web site for special tasting events. nobuofukuda.com.
Barrio Café, from former Woman Who Moves the Valley, Chef Silvana Salcido Esparza, creates regional Mexican cuisine including sopas (thick tortillas with vegetable and meat toppings), tacos and enchiladas among a variety of other authentic dishes, along with an extensive list of margaritas. With its vibrant, street-style art on the walls and in the parking area, this eatery is always lively and bustling with patrons. barriocafe.com.
A classy establishment with a modern flare that has hosted many a special-occasion dinner, Tarbell's in Phoenix prides itself on an atmosphere of "refined relaxation" and has for many years. Chef and owner Mark Tarbell's chic spot serves wines from around the world, quality, Contemporary American food, produce from local farmers and hand-selected meats. Have a seat at the expansive bar, and enjoy a glass of French rosé. tarbells.com.