Page 5 of 11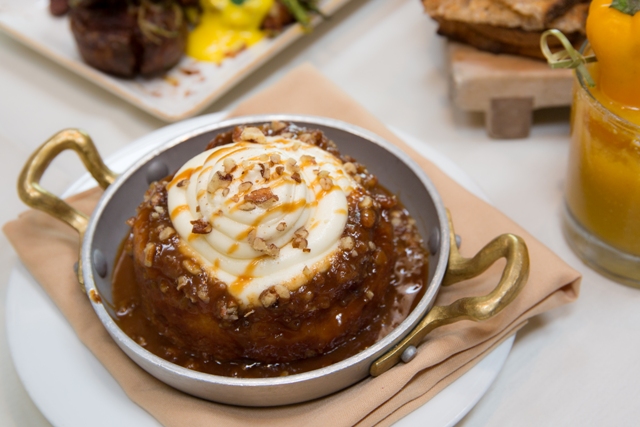 LON's at the Hermosa (pictured)
The historic Hermosa Inn, a picture-perfect boutique hotel in Paradise Valley, is the ideal staycation for Arizona locals and visitors alike. And the cherry on top of this establishment known for its impeccable service is the AAA Four Diamond restaurant: LON's at the Hermosa. Lead by Executive Chef Jeremy Pacheco, LON's offers fine dining for brunch, lunch or dinner, where guests can savor dishes like pecan-grilled filet mignon and—in the a.m.—its famous monkey bread. Plus, its award-winning patio is known around the nation as one of the best for alfresco feasting.
A longtime favorite at Hotel Valley Ho, ZuZu is undergoing a revamp of its dining space and menus (set to debut in September). The new look will spotlight a mid-century modern design with a contemporary twist (the new neon ZuZu sign is sure to attract some Instagram love) and the debut of a wine room, while the menu will spotlight small, shareable plates featuring ingredients from the property's brand-new 240-sq.-ft. herb garden. Fortunately, many of the guest-favorite dishes will remain on the menu as well as the adored Show Stopper Shake. But, get this—ZuZu will now offer a spiked version.
Chef Scott Conant's Italian delicacy is a delightfully elegant affair. Bright red seats, brass chandeliers, brick walls and distinctly warehouse-style wooden ceilings make up this modern, upscale space, which serves handmade pasta, Neapolitan wood-fired pizza, antipasti and other delish entrées. Simplistic though it is, the pasta al pomodoro is divine, with a richly flavorful, slightly creamy tomato basil sauce; be sure to pair it with a glass of the Sangria Mora, an infusion of blackberry, house sage brandy, passion fruit and table wine. Or channel your playful side with the rosé snowcone.
Tomaso's may be located in the prestigious Camelback Corridor and Biltmore area in Phoenix, but once you step inside, this chic restaurant transports guests straight to Italy. The restaurant, which opened in 1977, was dreamt up by culinary maestro and Italian-born chef Tomaso Maggiore (family-operated The Maggiore Group has a host of excellent establishments across the Valley). And Tomaso's When in Rome, a culinary concept branching off the original restaurant, is defined by superb cuisine inspired by the Eternal City, with refined yet relaxed vibes.
Offering up tapas-style plates, Twisted Grove Parlor + Bar is perfect for a group looking to share and experiment with a wide variety of flavors. The eatery, located in Scottsdale, has an upbeat, contemporary bar-style feel to it and great patio seating. Options for small plates include salmon poke, California artichokes, French onion soup and shishito peppers, or go your own way with one of the best salads in the Valley: the twisted noodle salad.