Page 1 of 10
With more than 2,800 nominees competing in this year's Best of Our Valley, it was no easy feat to come out on top. However, loyal listeners and faithful followers clicked away for local dj Johnjay Van Es, who was not only named Top Twitterer but Best of Our Valley 2011's leading vote-getter.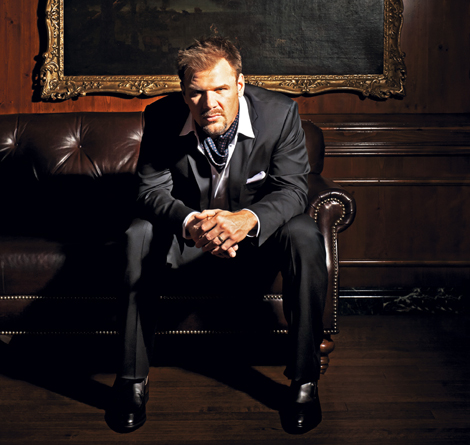 Twitter has gotten Johnjay Van Es in trouble on several occasions. "Every day my wife is mad at me about it," says Van Es, who is half of the Arizona-based Johnjay and Rich morning show on 104.7 KISS FM. He's famous for tweeting at inopportune places including meetings, church and funerals. He's been in trouble with his sister, friends and advertisers on his show. He's even been caught tweeting on photo radar tickets. But communicating through 140-character Web blasts isn't a habit he's ready to give up quite yet.
Van Es admits to having had doubts about the site at first. "Years ago, Rich taught me about Twitter and I thought 'That is stupid.'" Van Es isn't sure when it was that he changed his tune, but he's since found ways to use it to communicate with his growing radio show's fan base. "We have such a cool audience. They tweet back to us; it's like a conversation. They're all a part of our show."  And with nearly 25,000 Twitter followers and almost 10,000 tweets under his belt, Van Es has found himself completely addicted to documenting the ins-and-outs of his life. "It's like your own little reality show," he says.
A following like that takes time to build, and the radio show star didn't find it easy to get where he is on the airwaves. Van Es got his start as a radio promotion intern in San Diego, but moved to radio sales when he realized "all the sales guys were driving the fancy cars." Upon realizing he wanted to focus on his irresistible personality instead of cold calling, Van Es decided a radio show or "Saturday Night Live" gig were more up his alley. Van Es even spent a few years at The Groundlings, a Los Angeles-based improv theater known for launching the careers of many SNL cast members. A radio show came to him soon thereafter when he met and showed pictures of his bachelor party to the general manager of a radio station who, needless to say, found him hilarious. Van Es has since made strategic career moves through Cincinnati, Houston and Tucson, and has now been on the air for 15 years.
Though Van Es has success and an amazing following across the country, he and his radio partner, Rich, have chosen to keep the show based in the Southwest. "Everywhere I go, everywhere I move, I always come back to Arizona," Van Es says. The Chandler native has spent time living in New Mexico, Mexico, the midwest and across California, but knows where he wants to be. "I love it here. I will live here the rest of my life."
Johnjay's Best of Our Valley
Favorite Mexican Food
That's a tie right now: Los Sombreros and Blanco Tacos + Tequila
Favorite Newscaster
Tara Hitchcock
Favorite Coffee Place
Starbucks
Favorite Breakfast
I kill Taylor's Cafe every weekend
Best Place to Buy Jeans
Moody Blues
Best Place to Stay in the Valley
InterContinental Montelucia Resort & Spa
Best Place to Watch the Big Game
Majerle's Sports Grill
Most Glamorous Place to Party
Downstairs at the US Airways Center before Suns games  
Favorite Annual Event
The PANDA fashion show for kids, and the Christmas Wish-a-Thon broadcast at Tempe Marketplace
Best Golf Course
White Mountain Country Club in Pinetop
Best Outing
Pinetop
Best Place for Gadgets
I have a gadget guy who brings them to my house. Theater X. They're phenomenal.
Most Influential Man in the Valley
Pastor Terry Crist
Best Hair Salon or Barber Shop
V's Barbershop
Best Spot for a Birthday Party
Airworx Indoor Trampoline Center in Chandler
Best Place to Break a Sweat
Bikram Yoga Paradise Valley
Most Romantic Date
St. Francis, Stingray Sushi or Geisha A Go-Go
Best Kid's Restaurant
Chelsea's Kitchen