Page 5 of 5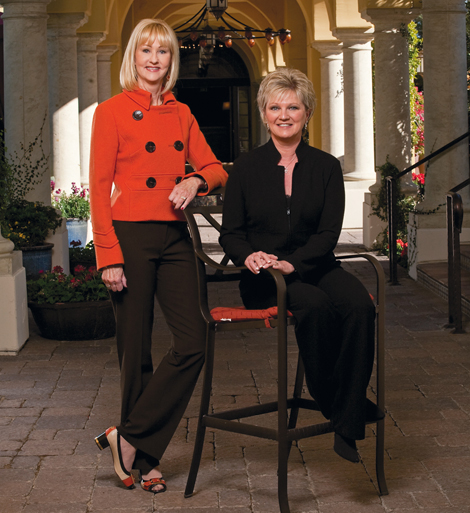 Kathryn Pidgeon
Executive Director of Phoenix Suns Charities
As if practicing adoption law at her self-titled firm doesn't keep her busy enough, Kathryn Pidgeon also serves as the executive director for Phoenix Suns Charities. "My problem is I have two fantastic jobs, and I'm one person," she says. Pidgeon was hired as the executive director for the Suns Charities in August 2009 after serving on the board for two years. "Working for the Suns complements me as an attorney because it allows me to use those skills but in different ways," she says. "I think it's an awesome distraction from the day-to-day stress of being an attorney."
Pidgeon, a Queens, N.Y., native, moved to Arizona the day after she and her husband, Steven, graduated from the University of Miami School of Law. At the time, they "didn't have a car, didn't have a place to live, a bank account and had no friends," Pidgeon says. Twenty-nine years later, Pidgeon is the proud mother to her three sons (Tyler, 25; Greg, 21; and Austin, 20), is partner with the Phoenix Suns, and has a home in Paradise Valley.
As a hands-on mom, Pidgeon constantly worked to find a balance between her career and family when her boys were younger. "I had an office in my home and did a lot of things that weren't traditional so I could always be there when the kids got home," Pidgeon says. "I gave up the fancy law office because it just didn't matter to me. What mattered was to be there for them." With her oldest son at Tufts Medical School, her middle son at Boston College and her youngest son at Santa Clara University, Pidgeon now makes her other Suns a huge priority. She is at every game, proudly dressed in orange.
Apparent by her roles with the Suns Charities and her law practice, Pidgeon is passionate about making a difference in the lives of children. In her first year as director of the Suns Charities, the organization gave a record of more than $1.2 million to 157 charities that aid families and children. Her work with youngsters doesn't stop there; Pidgeon also is actively involved with notMYkid, Arizona Friends of Foster Children Foundation and the Family to Family Foundation. —E.O.
Beth McDonald
Host of "Beth and Friends" on 99.9 KEZ
"It's my job to know a little about a lot of things," says radio host Beth McDonald. With more than 30 years of experience, a family of six, a band of loyal listeners and a passion to inspire and influence the world, it's safe to say she knows a lot about a lot of things.
While McDonald began school at Indiana University with the hope of one day writing for a magazine, a career in broadcast journalism seemed to be ingrained early on. "When I was growing up, I'd stand there with a pencil and paper and interview [my grandparents] at the front door," she says. A broadcast journalism class rekindled her interest and, upon graduation, McDonald found herself in Arizona with a position at KTAR. She made the move to KEZ in 1984.
From the morning she co-hosted her first "Beth and Bill" radio show in 1990, McDonald has been paving the way for women in the industry. "When I took the job, it
was really unheard of for a woman to be the lead host of a morning show," she says. Since then, the Indiana native has continued to make an impact on the Valley with her voice.
Since the start of her hosting gig, McDonald says women especially have been extraordinarily supportive of her show and career. To recognize those who make a difference in the local community, McDonald launched the Beth McDonald Woman of the Year award in 2003. The program annually honors 12 women who fly under the radar, helping the Valley in a quieter way, with one Woman of the Year chosen each March.
McDonald has always managed to balance her community involvement, career and family, though she admits it wasn't easy when her kids were little (her daughter, Shannon, and son, Brennan, are college grads; her daughter, Bridget, and stepdaughter, Becca, are still at their respective universities). It was her late co-host, Bill Austin, who finally told her, "Beth, it's OK to say 'no' to some people." She's since found the best way to make an impact is through her mic, and she does so by voicing her opinion on issues like civil rights for gays and teen bullying. "I think it's important, when something in society seems to be inherently wrong, to speak out about it." —C.P.
Where are they now? "I am excited to still be connected with Arizona Foothills as one of the nominated 'Most Fashionable Woman' and 'Ms. Popularity' in the Best of [Our Valley 2011]. Arizona Foothills is [sponsoring me] as a celebrity dancer in the upcoming National Kidney Foundation's Dancing With the Stars charity event on Feb. 25. My new national spa franchise flagship concept launched at FATE salon in Scottsdale. I am regularly appearing on Channel 3 sharing Survival of the Skinniest vegan recipes and Survival of the Prettiest beauty tips." —Mary Beth York, 2008 honoree