Page 1 of 5
One is the voice of the Valley, filling the local airwaves for more than 20 years. Another is an educator who is helping to transform college-level education with the introduction of Arizona State University's Downtown Phoenix Campus. Third is an award-winning designer who is encouraging Valley dwellers to ease stress on themselves and Mother Earth by changing the way they look at homes. Seven other inspiring women round out 2011's Women Who Move the Valley—all of whom are at the top of their respective fields and making the Valley a better place to be, both in and out of the office.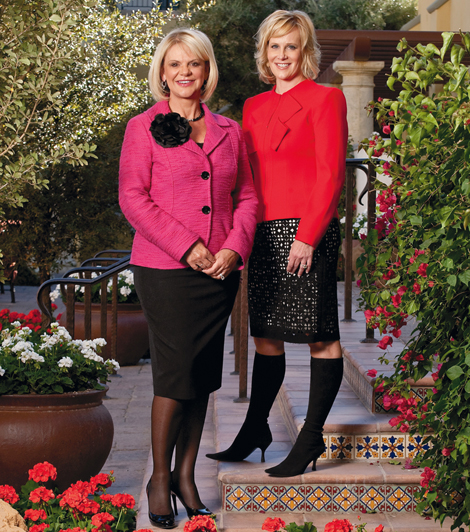 Deborah Bateman
Executive Vice President of Specialty Banking
and Marketing for National Bank of Arizona
A second-generation Valley native, Deborah Bateman began her 40-year banking career as a teller trainee at Valley National Bank. Now at the helm of National Bank of Arizona in Phoenix, Bateman says it was being a teller that influenced her to stay within the banking field. "I can't say that was what I focused on being but, once I got into the industry, I recognized my ability to serve others and help our community," says the University of Washington in Seattle graduate.
Bateman notes that working in banking requires more than just taking deposits and cashing checks. "You're put in a position of influence where you can support your community and help others to be financially successful," she says. "That absolutely held me to this industry."
Today, Bateman develops, implements and monitors the sales and service marketing strategies while also dedicating time to serving on the bank's board. "My life is completely intertwined," Bateman says. "My involvement—community, work and family—is core to who I am and that translates into me being that in every solitary environment that I am in."
Looking back, Bateman considers the women before her in banking as exemplary role models, including Barbara Ralston, now the executive director for Fresh Start Women's Foundation, a Valley nonprofit dedicated to helping women help themselves. "Barbara Ralston not only broke the glass ceiling for many women in Arizona banking, but she was a sponsor and mentor of women and brought them with her," she says. It is that giving spirit that encourages Bateman to volunteer her time outside the office and sit on the board of three Valley nonprofits: Juvenile Diabetes Research Foundation, Homeward Bound and Arizona Foundation for Women. While she's passionate about volunteerism, Bateman very much cherishes those quiet moments shared with her
husband, Tim, and daughter, Tara, at home.—C.W.
Kari Yatkowski
Founder and CEO of Haven Charitable Foundation
A former product manager for Insight Enterprises in Tempe, Kari Yatkowski left the corporate hustle in 1995 to start a family. She soon found herself devoting her spare time to volunteering for compelling causes. "I started to bear witness to what organizations were doing and got more and more deeply involved," says the South Dakota native. "It was not a conscious thing. I just started out volunteering like a lot of young moms do and…I caught the charity bug." In 2003, Yatkowski founded Haven Charitable Foundation, a Valley nonprofit providing resources of time and money to help agencies make lasting changes for families in need.
While her life may have been more regimented as a corporate go-getter, Yatkowski always felt a pull to do more—more for others. With the support of her family, she is able to do just that. She credits her loving husband, Paul, whom she has been married to for eight years, and her three boys, Griffin, 14, and twins Tate and Tyler, 6, for their unconditional love and tremendous support. "My kids understand what I am doing, and I think part of the lesson is to see that I am out helping other people," Yatkowski says. "Sometimes I have to be very committed and focused on what I am doing outside of the home, and then there are the times that I really need to focus on my kids. I am never not there for the most important moments."
In addition to her work with Haven Charitable Foundation, Yatkowski is also the co-chair for the MD Anderson Cancer Center's capital campaign, an 18-month commitment, and chairwomen on the Homeward Bound board. She also founded a consulting company called Activate Now Strategies. "As I was talking to corporate donors about giving, I was recognizing that the smaller companies didn't necessarily have a corporate-giving staff or personnel like a big company would and lacked clear strategies," says the Arizona State University graduate. "[They] were hungry to give but didn't know how. So I started [consulting] for people I knew and, before I knew it, there was an avalanche of people in need." And even though she admits life is a balancing act driven by appointments, Yatkowski fills "blank boxes" on her calendar with time outdoors with her family.—C.W.