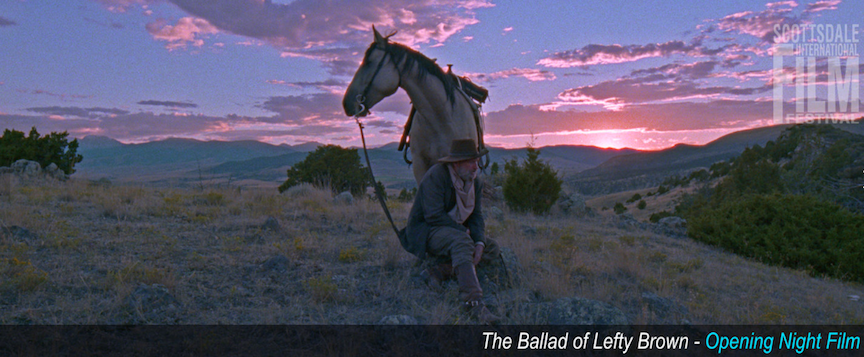 The 17th annual Scottsdale International Film Festival returns this year with a new, exciting film scene.
The event will kick off with the opening night on Thursday, Nov. 2, and the Arizona premiere of "The Ballad of Brown" starring Bill Pullman, and runs through Monday, Nov. 6.
Thursday's reception features a Western-themed spread, followed by an awards ceremony honoring councilwoman Linda Milhaven.
Amy Ettinger, executive director of the Scottsdale International Film Festival, says ticket sales are ahead of any previous year, an indicator of the significant level of interest in the community.
"My expectations are high; the films are remarkable and stellar this season," Ettinger says.
Compared to previous years, organizers of the festival broke down the films into specific categories, each providing a short description of the films. The categories range from documentaries, fresh stories, Far East, legends of music, countries of romance and more.
"The categories seemed to have helped people focus on what their interests are," she says.
In addition, the festival features a record number of noteworthy film makers from Hollywood and around the globe, contributing to a more diverse scene.
The 17th festival's line up will showcase more than 40 films from more than 30 countries, originating from both first-time and seasoned filmmakers.
"The festival serves as a bridge uniting those who make films with those who enjoy film by providing access to works they may otherwise miss," she says.
Ettinger says it takes time to come up with a curated selection of movies annually. Starting in January, she spends a lot of time thinking of the movies that might be the best fit for Scottsdale's festival, and takes care of sponsorships, sales, negotiations, vendors, contracts and more.
"There's a changing landscape from season to season, but we are able to keep up with the changes," she says.
In the future, Ettinger would like to see the festival reach an even bigger audience, become a 10-day-long event, and provide a greater choice of films.
"I'm very motivated that Scottsdale and the greater valley should have a festival of this nature and quality," she says. "This area is brimming with arts and cultural events."
Individual tickets are $12 per film at the theater, and opening night tickets are $25.