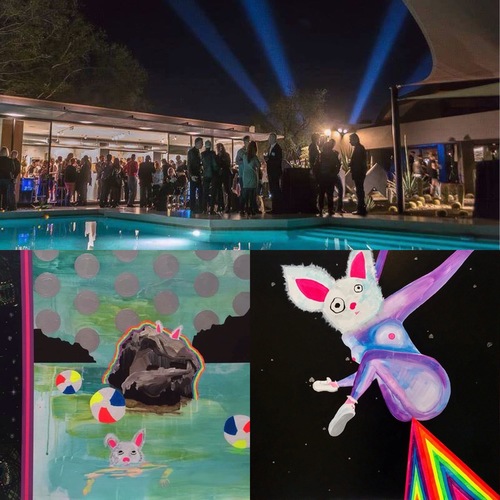 Astrobunnies: The Visitation opens Saturday, April 29, 2017 at the Tieken Gallery in Paradise Valley, AZ.
Astrobunnies: The Visitation is the solo exhibition of artist Kellesimone Waits who will be exhibiting a selection of her paintings and drawings curated by Amy Young of Perihelion Arts. Oakland based artist, brings her colorful paintings to the Valley of the sun with a striking new collection of work that examines "the female form and notions of femininity are a continuous focal point in my work as are physical, emotional, mental and allegorical transformations", states Waits.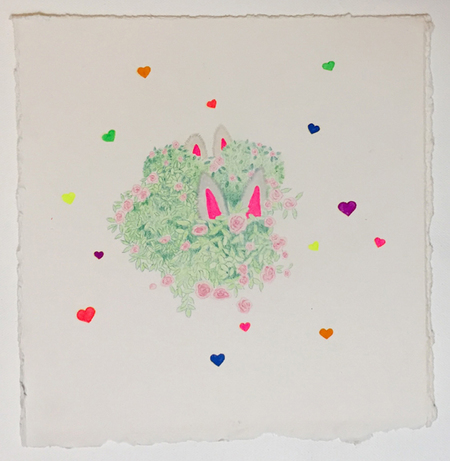 Explore the world of the Astrobunnies, the transient parasitic creatures from outer space that travel around in rainbow light pods who have decided to land and take up residence on our planet. Latching onto our heads and feeding off of our fears, our feelings of self loathing, and hatred, they then process and use to produce a chemical that causes us to feel peaceful and blissed out. Waits goes on to say that, "creating a narrative with this current body of work I am exploring ideas of sexual freedom, shattered inhibitions, and bliss, as they can be related to: anonymity, chemical intervention and altered or obscured identity."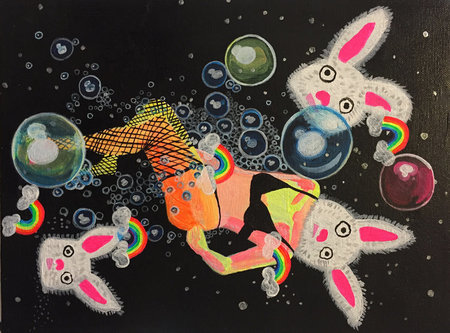 Waits is the daughter of actor and musician Tom Waits and lyricist Kathleen Brennan. Traditionally trained in the arts, she attended California College of the Arts and Mills College in the San Francisco Bay Area. She has exhibited her work nationally at such venues as Fuse Gallery in New York, Frank Pictures Gallery and Known Gallery in Los Angeles, Perihelion Arts in Phoenix and Museo De La Cuidad de Mexico. Waits has also participated in the art fair circuit including exhibitions at SCOPE Art Show and Aqua Art Miami. Her work is widely collected by an impressive slew of celebrities including Johnny Depp, Drew Berrymore, Elvis Costello, Diana Krall, and Rebecca DeMornay, just to name a few.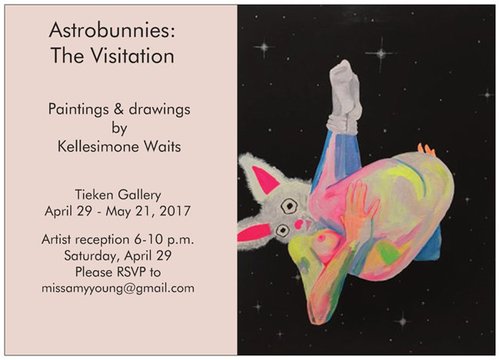 The Tieken Studio and Gallery will host a VIP Opening Reception for Ms. Waits on April 29, 2017. The Closing Reception will be held Sunday, May 21, 2017 from 2:00pm to 5:00pm and is open to the public (no rsvp required) with curator, Amy Young in attendance to speak about the exhibition. Astrobunnies: The Visitation will be on view at Tieken Gallery from April 29 through May 21 with private viewings available by appointment only. Tieken Studio and Gallery is located in the heart of Paradise Valley at 5202 E. Gold Dust Avenue. For more information about this exhibition visit Perihelion Arts perihelionarts.org/ksw/ or the Tieken Gallery and Studio fredtieken.com/. *All images courtesy and copyright of artist Kellesimone Waits and Tieken Gallery and Studio.