A wife, mother, author, artist, Carrie Bloomston is a multihyphenate whose first experience as a working artist came as a pre-teen in Alabama selling paint-splattered t-shirts. By 13 years old she had moved on to large-scale abstract paintings.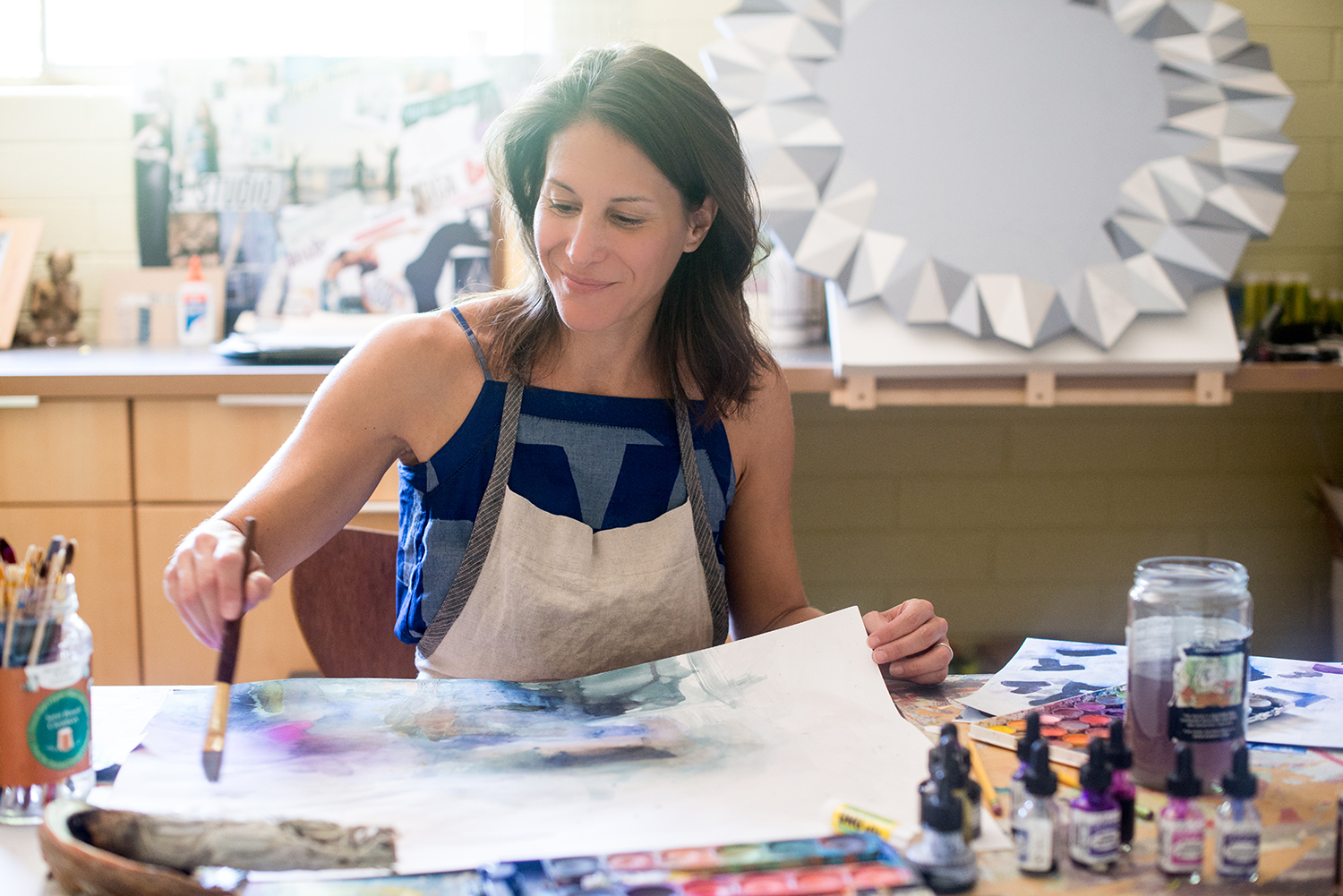 Meet artist Carrie Bloomston, pictured above, and view her abstract paintings and fabrics at the Celebration of Fine Art
"My parents were both creative and they always encouraged me," Bloomston said. "At some point in my tweens, we converted our garage into a 500-square-foot studio, supposedly for my mom, but she was good at sharing. I would paint large, abstract paintings on the floor until all hours of the morning."
A few years later, at 17, she had a one-woman art show and used those earnings to help pay for tuition at the esteemed Rhode Island School of Design. There, Bloomston immersed herself in painting and glass-blowing, working to master color-theory, composition, painting techniques and art history.
For Bloomston, her career path was never in question. She is an artist. She always has been. Today she channels the complexity of life and its intersection with the soul through abstract paintings and whimsical fabrics.
"Art picks up where words end–and it conveys the most tender, transcendent emotions," Bloomston said. "My work is an attempt to capture the wonder, awe, ecstasy, and complexity of this beautiful life."
Her abstract paintings feel layered, contemplative and soulful. Her fabrics, more playful, tell stories, too. When she's not showing at the Celebration of Fine Art, Bloomston - a self described creative enabler - is hosting art-based workshops to help individuals, intimate groups and companies amplify their creative thinking and see possibilities for growth.
"The main thing is to remember that your inner artist is in you right now—your inner kid," Bloomston said. "You just have to awaken to him or her again."
Meet Bloomston and get to know other artists at the Celebration of Fine Art now through March 26th. The show is open daily from 10 a.m. to 6 p.m. Tickets are $10 for adults and $8 for seniors and military members, while children under 12 are free. For show details and information on participating artists, visit www.celebrateart.com.