Western POP: Facts and Fiction of the American West kickes off 2017 season with a bang at Tempe Center for the Arts (TCA)!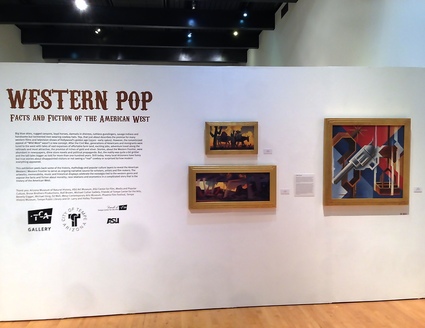 Western Pop brings the old West back to life offering a delightful selection of diverse artwork, fantastic memorabilia, and music and historical displays that celebrate and examine the western genre. Going beyond the surface, this exhibition examines ideas of morality, race relations and economics in the American West and the nostalgia tied to it. "Growing up in the Southwest I knew a lot about western iconography but this exhibition is telling a much larger story," said Michelle Nichols Dock, the Gallery's Art Coordinator, adding, "We are investigating the truths behind the stereotypical Hollywood mythology and the realities of the Old and New West that isn't so black and white."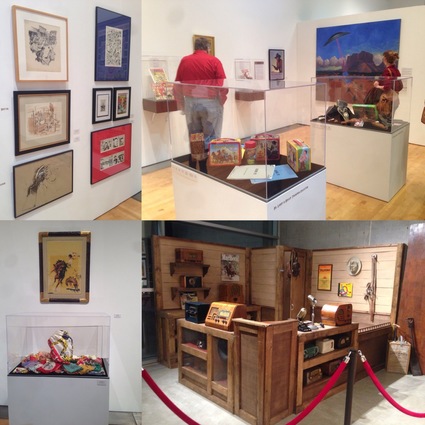 Boasting an impressive rooster of artists, some highlights of the exhibition include several intriguing paintings by famed Native American artist Fritz Scholder, who depicts non-traditional images of Native Americans and cowboys in his iconic pop art style. "His intent was to address loaded unsettling "Indian" clichés and the guilty conscience of contemporary American culture," and his powerful artwork continues to inspire future generations of Native Artists. A striking sculpture of a cowboy riding a bucking horse titled "Jack Knife" catches your eye as you enter the gallery, created by famed artist Ed Mell. Mell is "known for depicting the Southwest landscapes and culture in his own recognizable style" with several paintings showcased here including the compelling landscape titled "Veils of Time".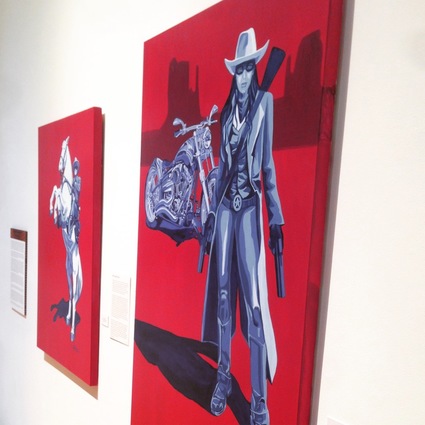 Wonderful new paintings created by local female artist, Rita Consing depict the classic western character "The Lone Ranger", while her newest painting depicts the Lone Ranger as a woman with a Harley in the same origins story posing the question "What if the Lone Ranger was a woman?" and commenting on current events. Consing's work is influenced by classic westerns, the artist is drawn to the vast lands of the west, horses and dazzling sunsets, which she captures through her pop-infused imagery.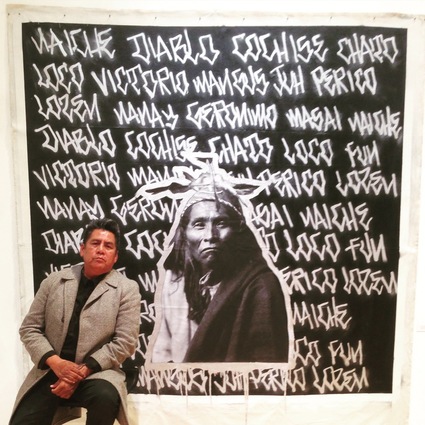 Douglas Miles has created new large mixed media work for this exhibition including "She Teach War" reminiscent of the vintage photographs taken of Native Americans during the 1900's, blended with his iconic style and lettering depicting his daughter as a brave warrior. When asked about Western Pop Culture Miles stated, "The American West isn't exciting and mythic because of hardy settlers, everyone does that, it's exciting because of the continued Native American resistance to colonization in spite of overwhelming odds and changing times." Also on display is a striking selection of his Apache Skateboards, which is made using a handcut stencil by Miles that is then painted onto the skateboard. Don't miss a free panel discussion Anti-Stereotypes: Hollywood Representation of the Apache that will be lead by Douglas Miles and his brother, writer Dale Miles on March 15 at 7pm.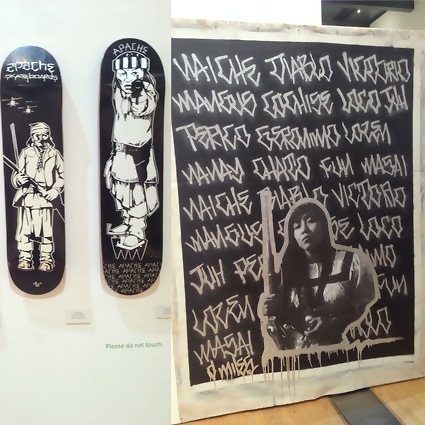 TCA presents their first Film Festival, sponsored by Northern Trust in collaboration with ASU Center for Film, Media and Popular Culture. The film festival will take place February 1 through February 3, with screenings taking place at 7pm, tickets cost just $5 per film and a post discussion of the film will follow. Three western films have been selected to reflect upon an "alternative cultural perspective of the Old West". The films to be shown are The Searchers on February 1 with Peter Lehman, Ph.D., ASU, the Unforgiven with Jason Scott, Ph.D., ASU on February 2 and Django Unchained, with Ralph Remington, Artistic Director of TCA on February 3.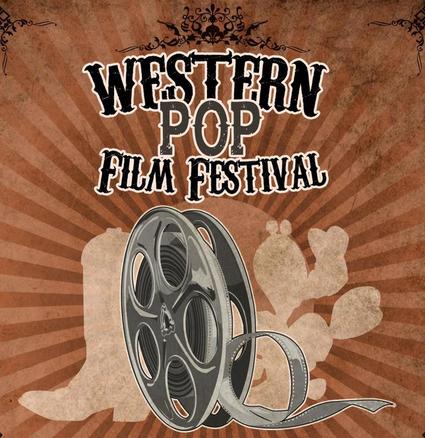 Western POP: Facts and Fiction of the American West will be on display through May 6th at the Gallery at the TCA. The TCA Gallery is open Tuesday- Friday 10-6 pm and on Saturday 11-6 pm and admission is free. Be sure to check TCA Gallery out online for more information regarding this exhibition, the gallery, or special events http://www.tempe.gov/city-hall/community-services/tempe-center-for-the-arts/gallery-at-tca. *All images are courtesy and copyright of TCA and gallery shots are by Nicole Royse.