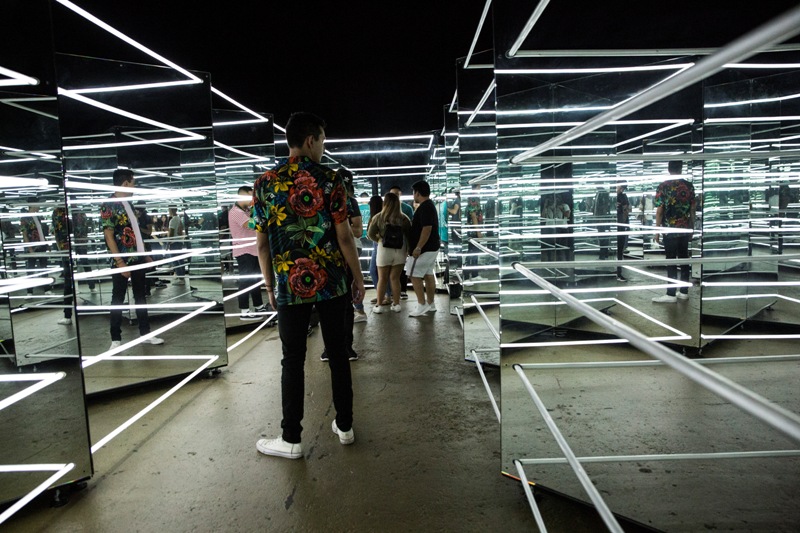 For a limited time at Scottsdale Fashion Square, you and your family can wander through a world called Elsewhere, the newest Wonderspaces exhibition. Get lost in an alternate dimension through art installations and masterpieces from over 10 different artists. The designers behind Elsewhere have worked to create and offer a different perspective on the way that we exist, and what more there could be.
As you enter the production, there is no shortage of alluring entertainment. I first witnessed the work titled: On a Human Scale by Matthew Matthew. This specific installation was displayed in a dark room with three long rows of animated photographs, as well as a piano. Each photograph was of a different human, capturing a picture of their face and a snippet of their voice. The piano produces an audio-visual experience as it links the pictured strangers' voices to the piano keys. The craftsmanship behind On a Human Scale was striking and eye-opening as it connects humanity through faces, voices, images and sound.
After strolling through a few more impressively beautiful creations, I approached an orange room featuring about a dozen small chairs and tables. In this room, I was fortunate enough to transport into a psychedelic world of dancing creatures through an interactive Virtual Reality animation. The employees of Wonderspaces kindly assisted me as I situated my VR headset and handheld controllers. Next, I was completely absorbed in a silly, fantastical world titled Old Friend. Tyler Hurd created Old Friend in hopes of exuding emotions through VR and inviting users to feel on a deeper level.
Displayed last but most certainly not least, the wall of Confessions by Candy Chang. Chang created Confessions to emulate the traditions of the Japanese Shinto shrine prayer. Guests are able to step into a private room and write down a confession that could potentially be added to the wall. Chang's interactive artwork inspects the human mind and its response to communal goodness. I felt an extreme wave of emotions roll through me as I read through the anonymous Confessions. We are not alone. In fact, we are more in sync than we might perceive on the surface.
You can visit Elsewhere and it's many other featured exhibitions until spring of 2020. Tickets are sold in time slots and cost between $0 to $24. Hours also vary depending on holidays and weekends. Visit the website for more information.