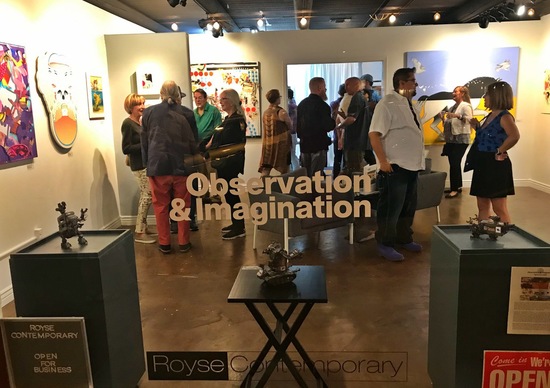 Royse Contemporary kicked off April with their latest exhibition Observation & Imagination on April 4th with a huge reception in Old Town Scottsdale during the "Sip of Scottsdale ArtWalk".

Gallery view of "Observation & Imagaination" at Royse Contemporary
This is Royse Contemporary's first large group exhibition, highlighting the work of thirteen noteworthy artists including: Angel Cabrales, Cherie Buck-Hutchison, Charmagne Coe, Bill Dambrova, Lee Davis, Cam DeCaussin, Gennaro Garcia, Rafael Navarro, Dan Pederson, Daniel Shepherd, Marilyn Szabo, Casey Wakefield, and Scott "ColorOrgy" Wolf. This show examines the ideas of observation verses imagination, reflecting upon the artists perspective and creative process.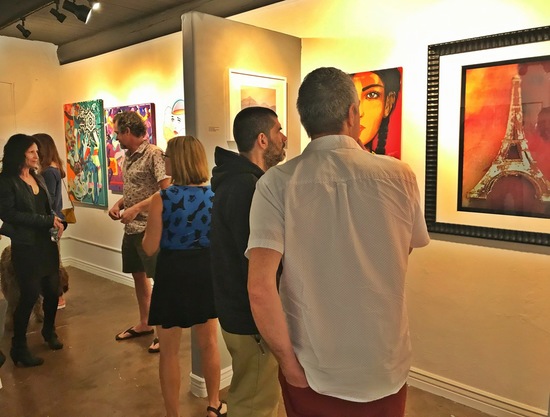 Typically, one would define "Observation" in art as drawing or painting from life, while "Imagination" emphasizes the artist's ability to produce images and ideas without any immediate input of the senses. Owner/Curator, Nicole Royse has selected artists who both typify and transcend these categories, creating powerful work that offers a distinctive voice, mastery of medium, and unique perspective.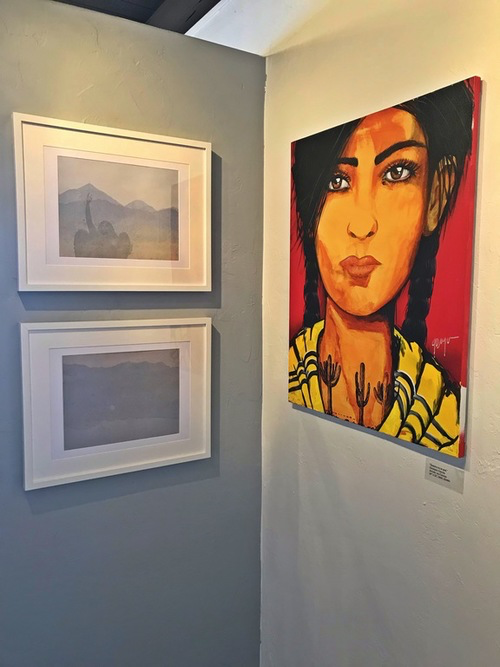 Photography By Cherie Buck-Hutchison & Painting by Gennaro Garcia
This captivating show offers an eclectic selection of work with artists working in an array of mediums including collage, drawing, painting, photography, sculpture, and mixed media. Observation & Imagination aims to create a dialog and connection with these artists, highlighting their use of imagery, engaging styles, and strong voice. Highlights from the show include mixed media photography from Cherie Buck-Hutchison, striking new mixed media paintings from Phoenix based artist Bill Dambrova, as well as intricate mixed media Sculptures from El Paso based artist, Angel Cabrales.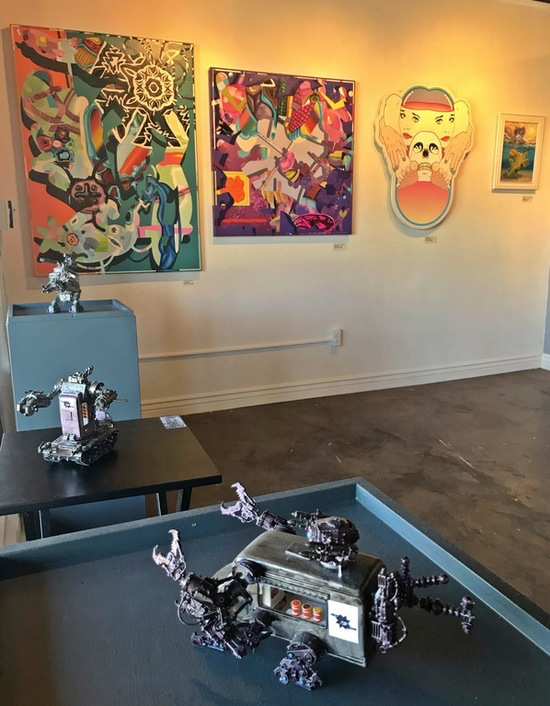 Artwork Shown Left to Right: Bill Dambrova, Scott "ColorOrgy" Wolf, Lee Davis, Angel Cabrales
Observation & Imagination will be on display at Royse Contemporary through May 2019. Royse Contemporary is located in the Scottsdale Arts District in the Marshall Square complex at 7077 E. Main Street, Suite 6, Scottsdale. Royse Contemporary is open Monday, Tuesday, Friday 9:30-1:30pm, Thursday 6:00-9:00pm for the weekly Scottsdale ArtWalk, and Saturday 11:00am-4:00pm. For more information about Royse Contemporary or our featured artists visit roysecontemporary.com. *Images are courtesy and copyright Royse Contemporary*