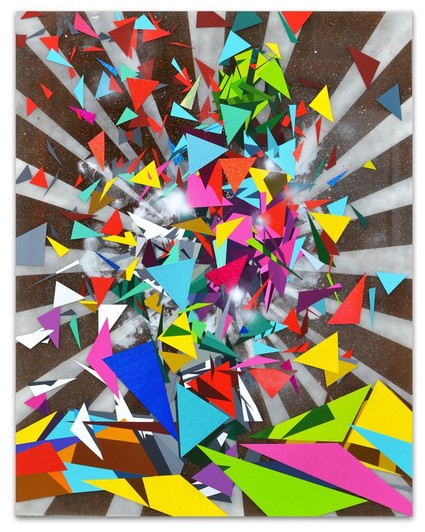 Travis Rice is a mixed media artist who brilliantly blends modernism, architecture and abstraction into a plethora of artwork that is both eye-catching and thought provoking.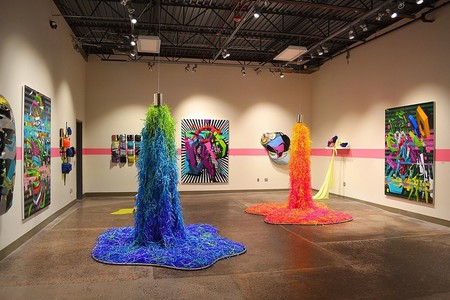 He creates work that ranges the gambit including cascading paper sculptures, massive drawings and candy colored paintings. His artwork utilizes traditional ideas of the romanticized landscape and southwest that he has amalgamated with contemporary techniques of 3-D modeling and a modernist sensibility. "Wandering between painting, drawing, and sculpture I investigate various motifs inspired by the southwestern landscape, incorporating media that test codes of taste through finish, color and application," says Rice. The artist effectively layers his work with texture, color, shapes and lines, resulting in refreshing and engaging work.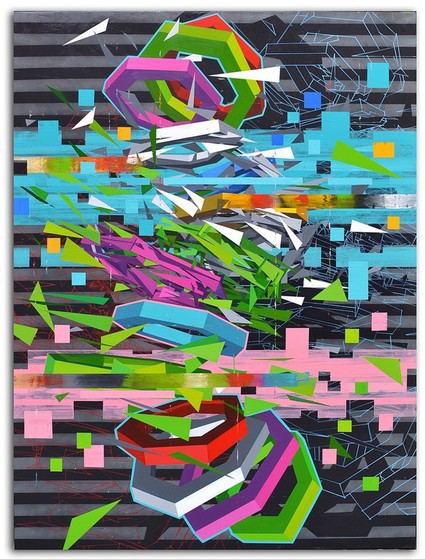 Rice's paintings and drawings juxtapose geometric shapes and lines intermixed with bold pops of color, exploring ideas of form and depth, as seen in his recent acrylic painting "Gremlin" and mixed media drawing "Defect". His sculptures and installations playfully blend abstraction and movement, in works such as his vibrant shredded paper installation "2 Conversations" that beautifully depicts the idea of frozen motion reminiscent of a cascading waterfall. Rice's work focuses on what the artist calls "updating the history of modernism through borrowing from and breathing new life into all the fodder that modernism has been built upon all the while challenging its austerity."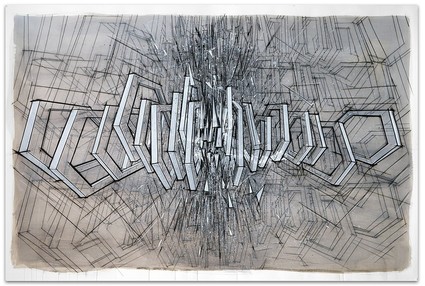 Travis Rice holds a Bachelors of Landscape Architecture from Ball State University, going on to receive a Masters of Landscape Architecture Study from the Rhode Island School of Design. He is currently completing his Masters of Fine Art in Drawing and Painting from the Herberger Institute for Design and the Arts at Arizona State University this spring. He has widely exhibited his work in both Iowa and Arizona at such venues as Legend City studios, Modified Arts, Fine Art Complex 1101, Eric Fischl Gallery, Step Gallery and at the monOrchid. The Moberg Gallery in Des Moines Iowa currently represents Rice's work.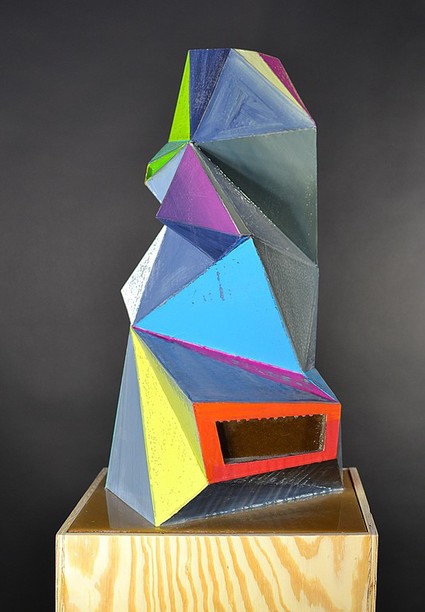 He is currently preparing for an several upcoming exhibitions including a group exhibition entitled Abstraction in the Singular at Bentley Gallery, as well as a solo exhibition at Step Gallery in culmination of his MFA. His work has been featured in numerous publications both online and in print including: Hi Fructose Magazine, Beautiful Decay Magazine, Phoenix New Times, YabYum Music & Arts, and Strictly Paper. This past year Rice was awarded the Zhou B Spirit Award selected by the Zhou Brothers in recognition of outstanding talent, as well as the Katherine Herberger Student Scholar award.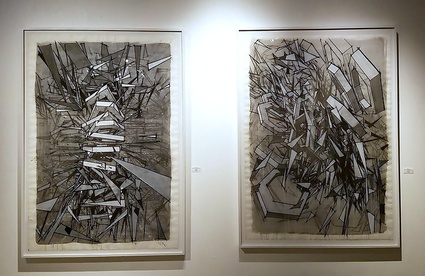 To learn more about the artist Travis Rice visit him online at http://travisriceartist.com. *All images are courtesy and copyright of the artist Travis Rice.