Caitlin W., the current Face of the Foothills, shares her advice, experiences, and thoughts about working with Arizona Foothills Magazine. Casting calls for the 2013 Face of the Foothills are currently underway, with Tucson's casting call on Saturday, May 5.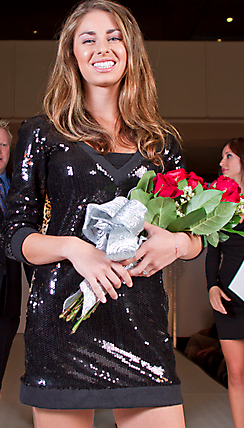 How did you go about becoming the Face of the Foothills?
One day, it was a Sunday after church, my mom and I were walking around the mall and there was a casting call in Fashion Square. I had had friends that were involved before in the competition that I had voted for. It was kind of a bucket list thing so we waited in the line like an hour or so and then we took the picture. So I did that, and I remember waiting all summer to see if I made it online and that's how I got involved.
Why are casting calls so important?
For me, it was important to kind of see first hand about the sponsors and what it's all about. And it is a great incentive to get the 3,000 votes in the beginning. It was important to see the owner of the magazine and the people that work with it so you can get a feel for what the magazine is all about.
How has your experience been as Face of the Foothills?
It's been great. I have been invited to numerous events by the owner. It is nice to meet everyone and get a sense of Scottsdale and who is going to be good people to know. It is also fun dressing up and being able to represent such a great magazine that has a great reputation. It is nice to get out there and be doing something in the community.
What types of things do you do as the Face of the Foothills?
I went to the casting call in Kierland Commons. I've also been to the Molina Holiday Event. I also went to an event is Scottsdale Quarter, the Best of the Valley. That was great because I went around and looked for internships and stuff like that. It was fun to look around and see what's going on and feel proud to be representing such a great magazine.
How did you get so many votes?
I had my entire family vote and I have to admit that I voted for myself quiet a few times. My grandma stayed up like all night voting. Everyone was going crazy; their fingers were like falling off. It was all about recruiting people to vote.
Would you do it all over again?
I would. The voting was really intense for me. I remember the night that they were going to announce it, my parents were like 'we cant do it anymore,' because it took up so much of our lives for that time. But if I could pick up a pen and sign up for another year again I would. But even the voting I would do again hands down.
How was it working with Michael Dee?
It was awesome. He is always available. I thought that he would be a ghost figure and be hard to get in touch with, but he is so involved and has so much passion for the magazine that he is like a mentor and a friend for me that I can constantly be in contact with. He is really good at what he does.
How is the staff at Arizona Foothills?
They are great, they are basically like friends. They are fun, friendly, and young which is awesome. They have so much energy and its great too because I feel like they are also great people to go to for advice.
What has been your favorite part of the whole experience?
My favorite part would be going to the events. They are really fun for me to get out there and meet people. I also really loved the fashion shoot to see the creativity involved, the backgrounds, and the outfits. Having the experience with social media and blogging was really great.
What would your advice be to those who are participating this year?
My advice would be to keep looking towards the end and that even though the voting can be really tedious to never get up. I remember the people in the beginning who were number one in the voting ended up burning themselves out. Remember that it is all going to be worth it if you are the Face.
The Tucson casting call for the Face of the Foothills is Saturday, May 5 at La Encantada. The event is from 11 a.m. to 1 p.m. All participants who enter the contest at a casting call will receive an extra 1,000 bonus votes.
For official contest rules, click here.