You have to hand it to Saint House Rum Bar for going against the tide, the tequila tide that is. In a town know for its World Margarita Championship and the Agave Festival, Saint House serves 60 kinds of rum almost exclusively.
While Tucson may be devoid of island breezes, you can breeze into Saint House for a bit of island flavor where the air conditioning causes the potted palm plants to sway ever so slightly and the wall of plants and wicker can chairs add to the ambiance. Okay, after a daiquiri or two your imagination can run wild especially after the complimentary taro chips and banana ketchup.
Think tortilla chips with a twist and salsa that that goes wildly tropical. Banana ketchup? According to Wikipedia, banana ketchup or banana sauce is a popular Philippine condiment made from mashed banana, sugar, vinegar, and spices. Its natural color is brownish, so it is often dyed red to resemble tomato ketchup. Banana ketchup was made when there was a shortage of tomato ketchup during World War II, due to lack of tomatoes and a comparatively high production of bananas. Here, the condiment remains in its natural state of brownish and you won't miss the ketchup or the salsa.
We began with cocktails. Mine was LoCo La Da made with Flor de Cana 4 year old white rum, coconut sake, fresh pineapple and demerara syrup. I only had one drink but if I were to drink two, I would have clicked my heels together and went looking for Mary Poppins. My friend sipped her daiquiri made with rum of the day, lime and sugar; a simple drink that was simply well done. The "airmail" cocktail is made from Angostura 5-year aged rum, lemon juice, honey syrup and dry sparkling wine; sip after sip spawned a complex aftertaste.
Since happy hour is my favorite meal of the day and fits into my budget, we dined well on the Cubano sandwich with generous mouthfuls of pork which was cooked for 12 hours, glazed ham, Swiss cheese, whole grain mustard and pickles pressed into a torta bun from Alejandro's Bakery.
The sticky, spicy calamari was some of the best I've had in Tucson. Dusted, fried and drizzled with the secret signature Saint sauce, plentiful calamari sat on a bed of arugula and diced fresh mango. This dish was spicy, sticky and sweet all at the same time and the ratio of breading to calamari did not overwhelm.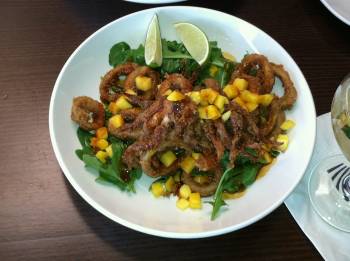 For a change of pace and price, we ventured into the regular menu taking a stab at the quinoa picadillo cakes made with yams, cashews, yellow corn, quinoa, black beansand jasmine rice dusted lightly with panko flour and sautéed until a crispy brown topped with arugula and green apple salad and then finished with a mango puree. This dish was bland by comparison to the calamari. If spice is not a requirement, you will love these cakes which are perfect for sharing.
What's on the menu?
House-made ceviches, plantain soup, roasted Mexican street corn, coconut shrimp, jerk chicken salads, street tacos, catfish po-boy sandwich, stew del mar, rum-glazed chicken, ropa vieja and more plus many cocktails made with rum, beer, and a small selection of wine.

 Saint House is located at 265 E. Congress Street. You can follow on Facebook.