Page 1 of 3
Judy Mackenzie is the frontwoman of REMAX Real Estate Rocky Point, Mexico, and she believes that Rocky Point Beach is the best fit for any family getaway. Just imagine a place where traditions are created and a legacy is built! 
Sunset on Playa Encanto Beach in front of Judy's and her family's home. 
My family and I found that place at Rocky Point in 1979.
Thirty-one years ago, we made our first trip to Rocky Point.  Meeting our friends from California, we rented a home in Playa Encanto.  Coming from Phoenix, we got our first visa permits at the border, found our turn off on the Corborca highway and traveled the rest of the way on a winding dirt road.  It was 4th of July weekend and the beginning of our life at the beach in Rocky Point. 
We bought our first beachfront home (lot $10,000, had a 1,200 sq. ft. home built for $12,000) with the money we got from selling our 1979 Corvette.  Celebrating holidays, birthdays and vacations on the beach, we enjoyed time telling ghost stories around bond fires, taking long leisure walks on our almost always private beach, watching the dolphins at play from our patio, playing games by the light of a propane tank with mantels attached and sharing it all with friends. At that time, we didn't have a TV, no phones and lots of quality fun time with our children and later, grandchildren.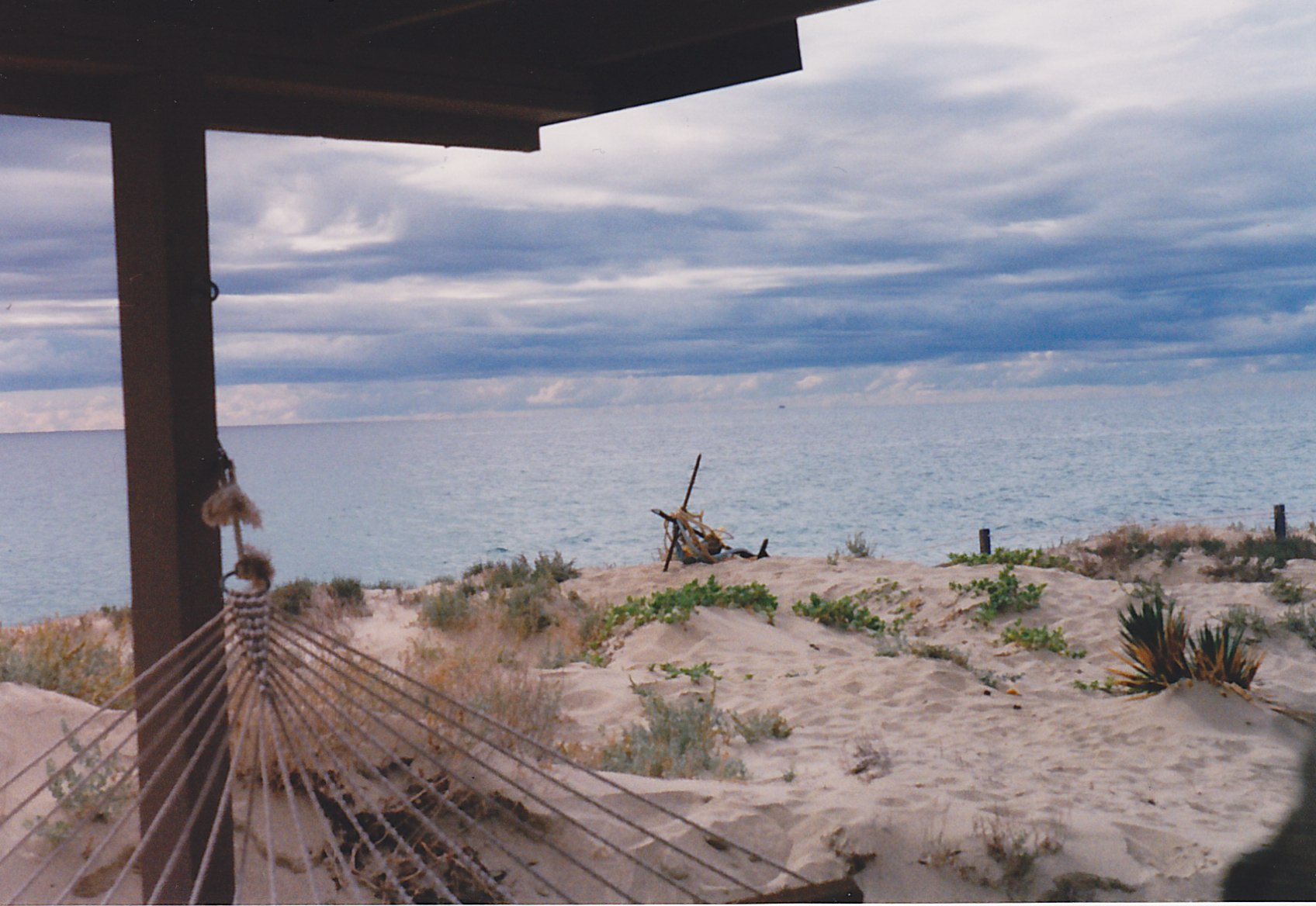 The view of Judy's and her family's hammock at her first home in 1979. 
In 1999, we bought our second beachfront home as our 25th wedding anniversary gift.  It's funny how fate steps in.  We talked in the morning after a leisure walk on the beach and decided we really liked our "little" home by the sea and by mid afternoon we were buying a new 3,400 sq. ft. unfinished home "Casa de Sueños", our "Home of Dreams."
Instead of flying to Tahiti for our anniversary we were having margaritas with our new neighbors, Dave and Margie Poturalski, taking sunset photos and having a gourmet anniversary dinner at our favorite taco stand. 
Within a year, Grant decided he wanted to be in Rocky Point full time supervising the completion of our beautiful new home.  The first and most important item was a railing around our upstairs loft area for the safety of our youngest grandson, Dylan, who was 5- years-old.  Then came the fun additions, a 1930's Wolf stove, a clawfoot tub, pool table and jukebox for the game room, fireplace in our master bedroom, tiled courtyard with built in BBQ, a fire pit and the list goes on.  Solar panels provided our power.  We turned our lights on (a big event) one evening and walked out to the water before turning around to see our home with real lights for the first time.