Monsoons can have a detrimental impact on homes, coming on rather quickly in the warmer seasons making preparation ahead of time key. These seasonal storms occur in the summer months for U.S. states starting in June and continuing through September. During monsoon, you can expect high levels of humidity, which brings with it thunderstorms, heavy rain, lightning, hail, high winds, flash flooding, dust storms, and extreme heat.
While monsoons can have a lasting impact on any type of home from apartments to condos to houses, if you are in a freestanding home, taking extra precautions can help save on costly damages down the line. And, no matter where you live, it's important to check your homeowner's policy to make sure you have proper coverage for some of the resulting impacts of monsoons. Wind and hail deductibles are more common than ever, with some policies affording the option for wind-only considerations.
Some of the things you can do to prepare are best maintained on an ongoing basis, and such precautions can bring additional savings on your homeowners' insurance policy. But even so, double and triple-checking the following areas when the wind is imminent is important: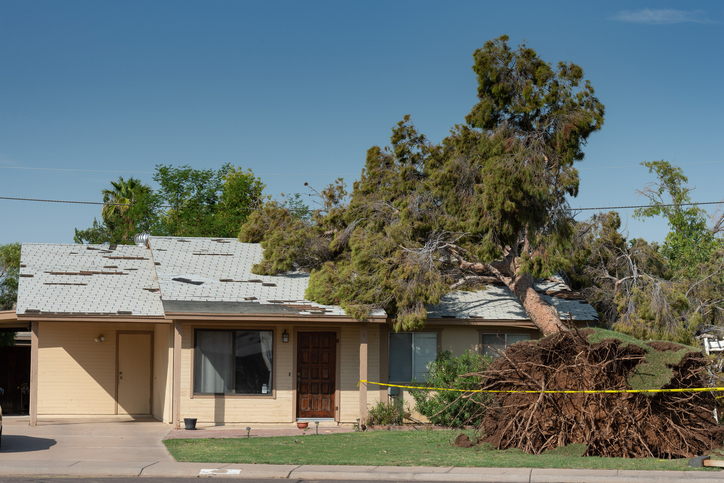 First, check your home for insecure areas. Weatherstripping on windows and doors, loose hinges, thinner barriers like garage doors, roof tiles, and shingles, and the like are small fixes that, when addressed beforehand, can offer big protection in case of high wind events.
Next check your yard for debris – brittle tree branches or trees in need of pruning; bicycles; sports equipment; gardening equipment; children's toys; lightweight patio furniture – and move it to a secure place.
Roofs, roofs, roofs. While it's often out of sight, roofs should be in good condition to withstand high winds and heavy rains. In Arizona, there are a lot of adobe homes and flat roofs are common. When rains get heavy it leads to standing water and roof leaks.
Like all weather-related phenomena, severe winds from monsoons cannot be controlled and can change unpredictably. However, preparing for such power and unpredictability can shield you from some very severe damages.
Make sure you know your whereabouts, and most importantly if you are located near or in a floodplain. Most homeowner policies will not include flood insurance, and many policies will not include coverage for windstorm damage, requiring a separate policy to be purchased. This can be purchased for a one-time fee or applied as a monthly add-on to your overall insurance costs, depending on your provider.
Should an official wind advisory be issued for your area, take it seriously and take steps to ensure your safety and minimize harm to your home. Now is the time for the aforementioned triple checking of window and door seals and roof tiles, and perhaps one more sweep of vulnerable branches and yard clutter. In some cases, reinforcing windows with plywood or storm shutters is necessary and specialized kits for reinforcing garage doors can be purchased and installed fairly easily.