Page 2 of 2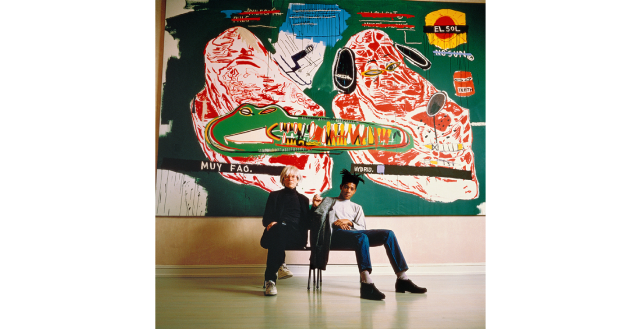 A Prized Piece
Considered the pioneer of the Pop Art movement of the 1950's, Andy Warhol's art provided a unique glimpse of what life used to be like in Post-War America. Warhol is indubitably one of the most important artists of the second half of the 20th century. His most iconic pieces can be found in major art museums all over the world as well as in large private collections. In his work, Warhol focused on the crossover between celebrity, advertising and artistic expression. He contradicted the well-known traditional ways of art.
Perhaps as interesting as his solo career is Warhol's collaboration with the young and talented Jean-Michel Basquiat. Basquiat idolized the art world legend, and in 1980, he mustered up the courage to approach Warhol at a restaurant in SoHo. Most of the magic happened in Warhol's studio he called The Factory, which became a famous meeting place for creative people and celebrities. It wasn't until Zurich-based dealer, Bruno Bischofberger, brought Basquiat to The Factory that the two actually began working collaboratively and developed a strong friendship.
The Basquiat and Warhol collaboration characterized the whole era they lived in and American culture frozen in time through the close to 200 works they produced together. Their collaborations were fascinating to the public for bringing to the surface the symbolism of the ritual and the characteristic styles of expression. As Basquiat put it, "[Andy] would put something very concrete or recognizable, like a newspaper headline or a product logo, and then I would try and deface it."
The most famous among their collaborations is the painting "Crocodile," dated 1984. Valley resident Elena Von Kohn, an international art dealer with Art Fortune, is representing this unique piece now.
This acrylic and silk-screen painting on canvas measures and an astonishing 114.2 inches by 178 inches and is among the most impressive examples of Warhol and Basquiat's joint creations.
Can you tell us more about what makes the piece so unique? "Crocodile" represents a pinnacle in the careers of both artists. The combination of Warhol's mechanically reproducible, flat images and Basquiat's hand-painted physically and purposeful primitivism served both artists well. Basquiat's powerful imagery, poetic symbolism and youthful frenzy reinvigorated Warhol, whose career had been relatively quiescent for the previous decade.
How did such a piece and collaboration come about? Jean-Michel was looking for Andy's fame, and Andy was looking for Jean-Michel's innovative style and admired his rebellious sprit. Bruno Bischofberger originally commissioned the piece, bringing together two artists who were as fascinating as they were contentious, but even he could not have imagined the degree to which this partnership would be mutually enhancing to both artists' careers,when he originally suggested they work together.
How does it feel to represent such an iconic internationally recognized piece? It's definitely a big honor to represent such a famous painting. I am very lucky. I love my line of work and love what I do. In addition to my clients, it is the best part of my business. –Raul Guevara
To Learn More
Art Fortune 480.203.2311, info@artfortune.com, artfortune.com.