Television personality and AZfoothills.com columnist Nadine Toren is scouring the area, finding savvy Valley features, bringing readers "on the scene." Every day she'll introduce you to celebrities, athletes, and give you an inside look into local events and hot spots. She'll touch on topical issues, and keep AZ fans posted on all the big talkers around town.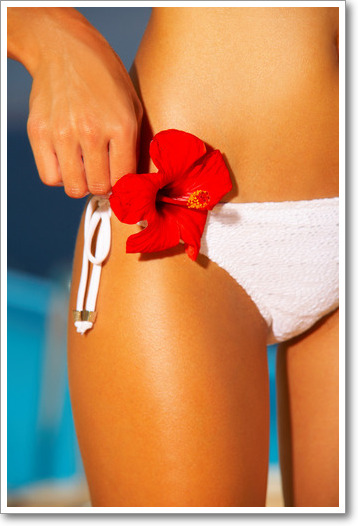 Want to secure a sleek, sexy, smooth look?  We're giving you the 411 on laser hair removal, the hottest summertime treatment. 
Is your boy requesting a bare bikini line?  Well, forget fearing your monthly waxing appointment and put the razor down—laser hair removal is the hottest ticket in town for you to sport a super smooth body. 
Yes, lasers are a little intimidating, but Dr. Susan Van Dyke says there's not much to be scared about.  The Cosmetic Dermatologist says it's one of the most popular treatments she does at her Scottsdale private practice, Van Dkye Laser & Skin.
"We use the gold standard in laser.  It's a very, very expensive instrument, so you're not likely to see it at many low-end places," said Dr.Van Dyke.
She's talking about the LightSheer Duet, a rather new laser tip slashing procedure pain by 50%.  She says it's one of the best advances in the laser field; plus, it's fairly large so areas can be treated fairly fast.
"Treating a man's back used to take us 3 hours, and he'd be crying the whole time.  Now, we can do it in about 20 minutes and there's only minimal discomfort," she said.
Lasers are made of a concentrated, focused light that triggers and destroys hair follicles.  They absorb the light while releasing heat—and that's what damages the follicles so they won't grow back.  However, Dr. Van Dyke says the picture-perfect patient has light skin and dark hair; it makes the process easier and more effective.
"We can still treat darker skinned people, it just takes more treatments."
Unfortunately, you're too late to be hair-free this summer, but you can get a head start for summer 2012.  The removal proves typically takes 5-6 treatments spaced about a month a part, and Dr. Van Dyke can guarantee an 80-90% reduction rate.
"It feels like snapping rubber-bands against your skin."
But don't let that scare you.
Dr. Van Dyke first applies a topical anesthetic that numbs your skin over 30 minutes.  It's then followed by the laser treatment.  The procedure is completely safe; that is, if you're getting it done by a licensed professional—if not, you might end up with a serious burn or scarring.
"It's quite a powerful instrument that has to be used right."
It's suggested you shave between treatments, but definitely avoid waxing or tweezing.  (You don't want to jeopardize the hair follicles.)
Each individual treatment ranges from $30-$100, depending on the size of the area; Dr. Van Dyke says the Brazilian bikini procedure is most popular.
You'll likely be permanently hair-free after your series of laser appointments, unless if you have something like a hormonal hair issue.  (In that case, Dr. Van Dyke suggests touch-ups.)
It's an appealing option for anyone looking to make grooming (or lack thereof) a little easier…and your man will surely thank you for the flawless feel.
For more information, visit:  VanDykeLaser.com