Page 1 of 2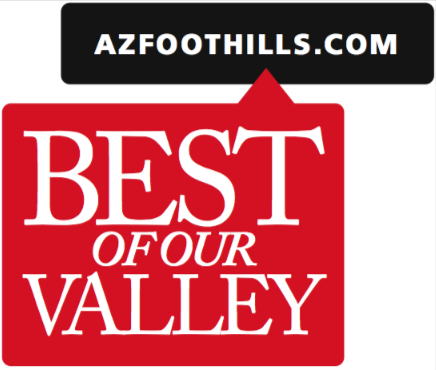 Voting is live for AZFoothills.com's second-annual Best Of Our Valley contest! This fall, more than 2,800 nominees will duke it out for the top spots in nearly 300 categories like Most Fashionable, Best Engagement Ring Spot, Best Coffeehouse and Best Special Event Venue. And this year, Arizona Foothills is honoring the most-loved person, place or thing in the Valley by putting it on the cover of the Best Of Our Valley issue!
The one nominee with the most total votes at the end of the two-month long contest will be dubbed "The Coolest Thing in the Valley" and be featured on the cover of the Best Of Our Valley March 2011 issue in an Arizona Foothills-styled shoot.
Voting begins October 1 at 12:00:01 p.m. and concludes November 30 at 11:59:59 a.m., with one vote per computer per day per category permitted in each category. For full Rules & Regulations, click here.
Click the button below to get started!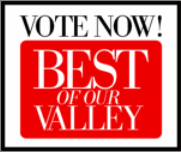 Since 1997, Arizona Foothills Magazine has celebrated the latest and greatest in Valley luxury. We've featured everything from the finest resorts and travel destinations to shopping and beauty to fabulous eateries and places to live. Almost 14 years later, our mission is no different! We still strive to unveil what's up-and-coming, give credit where it's due to those who deserve recognition and provide useful information to our loyal readers.
Best Of Our Valley
Last year, we asked our Arizona Foothills Magazine and AZFoothills.com readers to help narrow down the thousands of restaurant, dining and fun options in our expansive metro to an elite list of the very best. We had thousands of Nominees in more than a hundred categories submitted to the contest, which were voted on over the course of the fall by our AZFoothills.com readers. As we ended voting on December 2, 2010, we were left with dozens of fan favorites and some of the best-kept secrets our Valley has to offer. We featured these winners in our March 2010 Best Of Our Valley Issue, and held a fabulous winner's reception for the Valley's greatest people and businessowners.
Nominations
This year, we want you to tell us what you love. Whether it's a hole-in-the-wall eatery, ritzy resort, flavorful margarita or the best handbag shopping destination, tell us by e-mailing your Nominations to bestof@azfoothills.com before September 15, 2010.
Our Nominations focus groups and editors will scrutinize over the options, ensuring they fit the standards of the luxury pub, and will submit the final list for voting.
Voting
Voting will take place October 1, 2010 at 12:00:01 p.m and end November 30, 2010 at 11:59:59 a.m. Voting will be one vote per computer, per category, per day, for the entire duration of the contest. Arizona Foothills will contact all nominees the day voting begins.
Winners Will Receive
In March 2011, Arizona Foothills Magazine will complete their second-annual Best Of The Valley issue, featuring and naming the winners- at peak visitor and tourist season. Winners will also find themselves in the Best Of Our Valley 2011 list on AZFoothills.com and receive special promotional opportunities from AFM.
More Information
Download the Nominee Packet, FAQ's Promotional Logos and Printable Collateral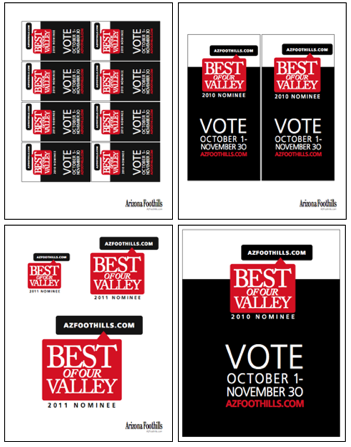 Questions & Comments
All questions and comments must be submitted in writing to bestof@azfoothills.com. Due to an extremely high volume of e-mails, not all will be directly returned, though frequently-asked questions will be addressed. Phone calls and drop-ins will not be accepted.
Click Next to see the full Rules and Regulations.