Page 2 of 2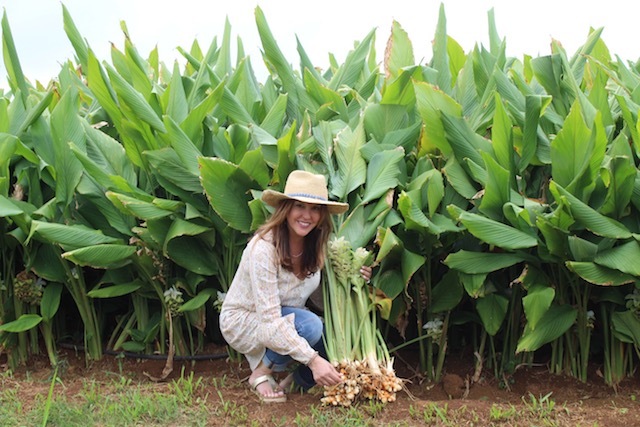 Turmeric is a spice, native to Southern Asia, that is grown in root form and that has been hailed for centuries as a natural healing resource due to its therapeutic antioxidant properties and herbal compounds.
"I thought I was nuts. So, I handed out 50 bottles. And then I went and handed them out to everybody I knew who had things like arthritis or joint pain, and it worked."
Haynie was not only stunned by the results, but also curious. Her curiosity prompted her to conduct more in-depth research into the product and its ingredients, so that she could understand why turmeric was working wonders for her.
"In my research, I found that a lot of it is from China and India, grown in dirty water - and I just didn't want to do that," says Haynie.
Despite her off-putting research, Haynie was determined to find an alternative solution that would still allow her to use turmeric.
She then found an organic farm in Kauai with whole, fresh roots. From there, she created Future Pharm.
"I wanted to help other people, and I also wanted it for myself. I didn't want to run out," Haynie joked.
Future Pharm was incepted in 2016. The company is different from others of its kind because it not only documents the creation of the turmeric - from its growth in Hawaii to its overnight shipment to Arizona once fully flourished - but, it is also closely managed and overseen by Haynie.
"The farm has its own water supply. It's located on high-ground, so even though it may rain every day there, there's no worry of cross-contamination. There are no metals in it because it's never grinded into powder," says Haynie. "I also have the turmeric over-nighted from Hawaii to Arizona. It's then sourced in the United States, and it's manufactured in the United States."
Every aspect of the company has been meticulously organized, and is monitored religiously, detail by detail.
For Haynie, it's about more than just creating something that alleviates the burden of pain - it's about creating something that's made fresh, made well and that lasts.
In early November, the company won the title of being a producer of one of the "Top Five Natural Supplements for Joint Pain" at SupplySide West, a tradeshow that celebrates health and nutrition industry professionals and supplements.
Although the company may only be a few years old, its unique production strategies and notably-recognizable name, certify that both Future Pharm and Haynie have a lot of successful years ahead.
For more information on Future Pharm, visit the company's official website.