Page 2 of 3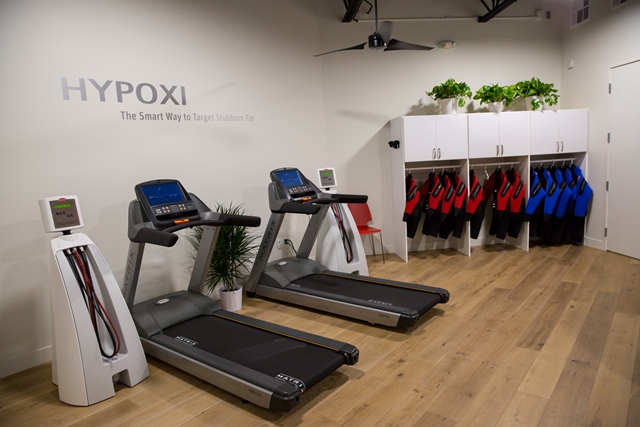 On my first visit to HYPOXI, I was introduced to the four machines that are utilized in HYPOXI studios: the Dermology, which reduces puffy skin, cellulite and uneven skin tone; the Vacunaut, which targets fat in the stomach via treadmill exercise; the S120, an enclosed stationary bike that targets fat in the lower stomach, hips, buttocks, thighs and lower back; and the L250, a lay-down stationary bike that targets the same problem areas as the S120.
In order to understand what my goals are—and, thus, what machines I would be using during my sessions—the first visit also included a consultation with my HYPOXI coach, a staff member who leads clients through the fitness journey. Body measurements were taken, as well as a 3D body scan which allows users to see a 360-degree avatar of their body (which, in itself, is a really unique experience that I haven't seen anywhere else in the Valley). At this time, we also discussed diet and body areas that I wished to improve. Though standing in your skivvies in front of a stranger for measurements isn't anyone's idea of fun, the coaches at HYPOXI are warm, welcoming and eliminate any awkwardness from the situation.
For HYPOXI newbies, it is recommended that you start with 12 sessions at three sessions per week. The machines are 20 to 30 minutes per session, and, in my case, it was recommended that I do a combination of two machines per session.
My first experience with a HYPOXI machine was with the Dermology. This is the only machine that doesn't require any exercise or effort; basically, you lie there. You can take a 20-minute nap, if you'd like. You step into a large suit (from neck to toes) before lying down and being plugged into a machine that applies negative and positive pressure. The first minute of the Dermology process was a little nerve-wracking, as it feels like being given a giant bear hug from your chin down. It is a tight squeeze. (Those with claustrophobia issues might want have a difficult time with Dermology.) However, after that first minute passed and I became used to the feeling, the sensation was much more calming, more relaxing. From then on, I looked forward to my thrice weekly Dermology sessions. I mean, where else are you basically forced to lie down, listen to spa music and relax for 20 minutes?