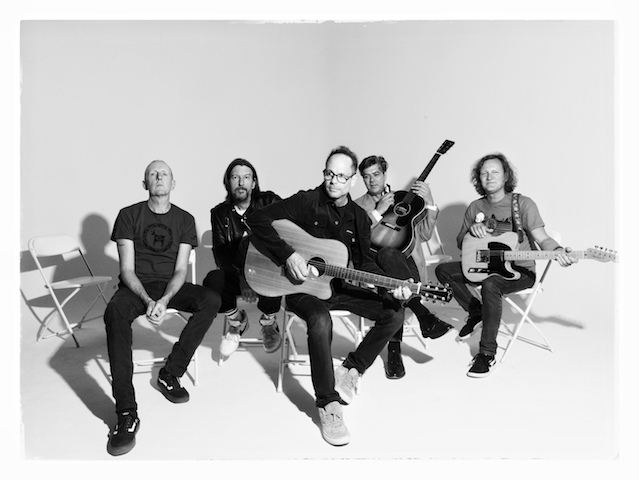 The Gin Blossoms. From the left: Bill Leen, Scott Hessel, Robin Wilson, Jesse Valenzuela, Scott Johnson. Photo by Shervin Lainez.
As leaders of the jangle-pop trend of the early 90's, the Gin Blossoms gained a reputation for their rock melodies and catchy, lyrical hooks with popular tracks like "Hey Jealousy" and "Follow You Down." Earlier this summer, the band returned to the music scene with their first new album in eight years, Mixed Reality.
We had the chance to catch up with Robin Wilson, lead vocalist for the Gin Blossoms, as he talked about the band's future and dished on some of his favorite spots around the Valley.
AFM: So, you have a new album—Mixed Reality—which you guys released earlier this summer. With it being your first new album in eight years, was there any nervousness in what the response might be? Or were you mostly just anxious to finally be able to record and release new music?
Robin Wilson: Not really much nervousness. I mean, I think if our fans like the music that we've released before, then they're gonna love this album.
AFM: As an artist in a well-known alternative rock band, do you ever have any desire to break outside of that jangle pop-centric genre?
RW: Oh, sure. But the truth is, I've found that I'm very lucky that I'm in exactly the right place. I'm in exactly the right band. So, I feel that I'm a very lucky person to be exactly where I should be.
AFM: I read one interview where you said, "I want to make people feel the way that those people made me feel," which was in response to a question regarding your admiration for Tom Petty. So, when people listen to music from Gin Blossoms, what do you want them to feel?
RW: Well I suppose it depends on the song. Each song is gonna provoke a different emotional response. Some are going to be happy and some are going to create a sense of aggression or sadness. Mostly, we just want to connect emotionally with people. We want our music to have some type of effect.
AFM: Don Dixon, who is a music legend, produced this album. Did his influence on the project change the way that you guys wrote and recorded songs?
RW: No, I wouldn't really say that. I would just say that he made us want to bring out our best and to record everything flawlessly. We really felt like we could trust his judgement on things.
AFM: At least in Arizona, you guys [the band] are known for your "Mill Avenue sound," and you have been compared to other Arizona bands like The Sidewinders, The Refreshments and The Meat Puppets. But when you first started, how did you try to separate yourselves from other up and coming bands?
RW: Well we weren't trying to consciously separate ourselves from other bands, as much as we were just simply following our interests. For us, Cheap Trick and Tom Petty and R.E.M. were the basics of rock and of our sound. So, those were the groups that we liked and those were the groups that we wanted to play like, and those were the kinds of songs that we liked. So, here we are.
AFM: Now I understand that in the late 80's, the band was a regular performer at the Long Wong's—which unfortunately, has since closed. But are there any other places that you find yourself frequenting whenever you're in the Valley?
RW: Sure. I have a boat at Saguaro Lake, so that's usually my first destination—or, at least my most important destination. I usually will try to stop at Four Peaks Brewery. But these days, I really like staying in Old Town Scottsdale. I've been enjoying that scene and all of the different restaurants that are down there. Even the hotels—I love to stay at the Valley Ho [Hotel Valley Ho] and have breakfast at Morning Squeeze. I really enjoy my time in Arizona.
AFM: You just released a new album and you're on tour now, but—what does the future look like for Gin Blossoms?
RW: It looks a lot like this. We're gonna eventually make another record and we're gonna just keep playing, doing interviews and designing T-shirts and stuff. Just the basic things that you do in a rock band.
The Gin Blossoms will be playing The Van Buren on Sept. 8, as they continue to tour their new album, Mixed Reality. For tickets and event information, click here.