Page 3 of 3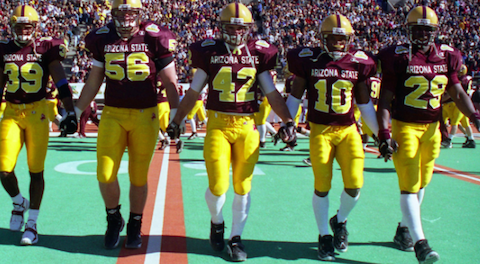 Sparky Game-Time Traditions!
Bring your keys! Shaking your keys in the air before each kickoff is a Sun Devil tradition. Stand up and get loud! The Inferno, the loudest and boldest student section in the nation, will be there ready to roar. Join in the noise and sing that Sun Devil Fight Song: Maroon and Gold!
Don't Know What to Expect?
There are simply no words to express the noise, the hype and the exhilarating atmosphere of a Sun Devil football game. Whether you're an alum or have never ventured down to Tempe, football games at ASU are jam-packed fun for everyone. With 70,000-plus in attendance, fireworks, music and, most importantly, our fellow Sun Devils, add an ASU football game to your fall to-do list!
For the complete ASU game-day schedule or tickets, click here.