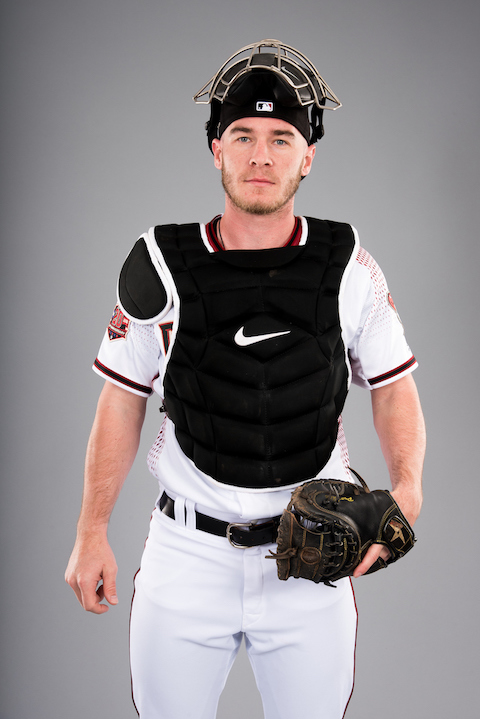 CHRIS HERRMANN
Super versatile player and Texas native, Chris Herrmann, commonly known as Herrm the Worm by teammates, is returning this year with a postseason vengeance. Before becoming the catcher for the D-Backs, Herrmann attended Alvin Community College where he was named to the NJCAA Division 1 All-American Team, along with other recognitions. After one year of high success at the Junior College level, the Division 1, NCAA title holders, University of Miami recruited him. As a junior, he led the Hurricanes in batting average, runs scored and on-base percentage; he was drafted after that year in the sixth round to the Minnesota Twins. He made his first Major League debut in September of 2012 for the Twins and, in 2015, he was traded to the Diamondbacks where he has played catcher, outfielder, and pinch hitter. With his track record showing that he sets career highs every season, fans are anxiously waiting for the start of the season to see what he pulls out of his sleeve.
AFM: What would people be surprised that you're good at besides baseball?
CH: Drawing.
AFM: What's next on your bucket list?
CH: Homers today.
AFM: What are your favorite spots in Arizona? CH: Steak 44. I have a Jeep so I like to take my jeep out to the mountains. I like to go to Four Peaks. I don't do casinos.
AFM: What are your hobbies after your day on the field?
CH: Go hangout with my family. I have a newborn son so I spend time with him. I usually play video games. Fortnite is my favorite but I have to buy a gaming laptop, but I play a lot.
AFM: If you could play one position that you weren't playing right now, what would it be?
CH: I always like to be in every pitch, so maybe I would want to be a pitcher. Those guys get paid a lot of money too, which is fantastic. I'm kind of jealous of that. I think it would be fun to be a pitcher and always be in every pitch. Even though those guys come out every five games and pitch, the show is about the pitcher.
AFM: How was it playing in the minor leagues?
CH: It's fun. Whenever you're going through the system, you don't know any better and the ultimate goal is to get to the big leagues and you are just down there grinding, staying in the crappy hotels, eating the crappy spreads, but you don't really know any better. It just makes getting up here that much sweeter because you realize what you have to go through in the minor leagues to get here and it's all worth it.
AFM: What advice would you give to high school players making the decision between playing college ball or taking their draft pick and going to the minors?
CH: I didn't get drafted out of high school. I wish I would have, I probably would have signed. Just because I would have wanted to get my career started right away rather than go to college for three years and just maybe have a chance. But everything worked out.
AFM: If you were not playing baseball, which profession would you pursue?
CH: My life has been based around baseball. I like to play video games and technology. I always tell people maybe some sort of computer technology, working for a company like that. I'm all about doing things that you love to do. If you are in a job and you don't love doing it, you probably shouldn't be working in that job.
AFM: How's your team going to be this year?
CH: We basically have the same group of guys from last year. I know J.D. [Martinez] just signed that deal with Boston which is unfortunate for us; he was a great piece of that puzzle last year. We got a lot of guys on this team who are great players, and I think we all play together good as a team. It's been a learning experience for this group of guys over the past couple years, and I feel like we are only going to keep growing off of that.
To see the D-Backs in action during the spring training season, click here.