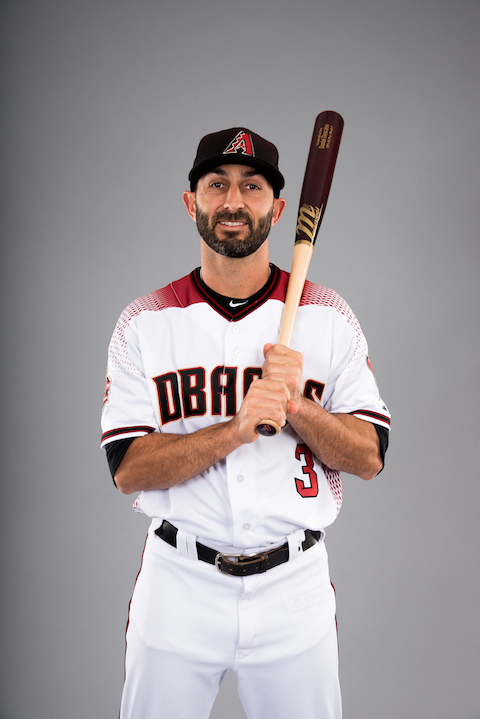 DANIEL DESCALSO
Scals, or Daniel Descalso, is a California native and current utility player for the Diamondbacks. He is known primarily for playing second base, third base and for being a pinch hitter. After having an all-star high school career in baseball and football, he went to UC Davis where he played third base and studied Economics. Following his junior year, the St. Louis Cardinals drafted him in the third round, and he made his major league debut three seasons later in September of 2010. Since success follows wherever he goes, he was part of the team who won the 2011 World Series. In 2017, he was traded to the D-Backs from the Cardinals and we have been cheering for him ever since. Follow him on twitter at @DanielDescalso.
AFM: What would people be surprised that you're good at besides baseball?
DC: I wouldn't say that I'm necessarily good at it, but I enjoy cooking and trying new recipes. I guess my food tastes good, so I would call myself a pretty good cook.
AFM: What's next on your bucket list?
DC: Definitely play golf at Pebble Beach. I've gotten a lot better over the last couple off-seasons as a golfer. I wasn't quite ready for Pebble Beach, but it's on my bucket list.
AFM: What are your favorite spots in Arizona?
DC: I really like The Mission, a Mexican restaurant, and also The Vig up at McDowell Mountain. It's like this cool indoor/outdoor restaurant with a place for the kids to run around. It's a lot of fun.
AFM: What are your hobbies after your day on the field?
DC: I like to get as much golf in as I can. There's usually a few guys you can find that you'll go play some golf with you. Spring training is a good time to go do that.
AFM: If you could play one position that you weren't playing right now, what would it be?
DC: I've actually played a lot of positions in my career so I guess catcher is the only one I haven't played. I don't know if I would necessarily like to do that, but it would be fun to try one time.
AFM: How was it playing in the minor leagues?
DC: Minor leagues was fun when you are a young kid and you just signed your contract, getting ready to get paid to play baseball. You make the best of those long bus rides, the less-than-ideal field conditions. You forge some pretty good relationships and friendships with guys. Doing that, you learn a lot about yourself as a ballplayer and as a person during those years.
AFM: What advice would you give to high school players making the decision between playing college ball or taking their draft pick and going to the minors?
DC: I always wanted to go the college route. I'm glad I did. I did a lot of growing up those three years and had a lot of fun as well.
AFM: If you were not playing baseball, which profession would you pursue?
DC: I like to cook, so maybe I would have gone the culinary school route and see where that took me. But that's something that's kind of crept up in the last couple years. I haven't always been a good cook or an adventurous cook.
AFM: How's your team going to be this year?
DC: We returned a lot of the same group from last year so expect us to kind of pick up where we left off, you know, make another run to the playoffs.
AFM: What's your guilty pleasure?
DC: I do love salted caramel Talenti ice cream. I think those Talenti ice creams are hard to beat. You usually find that in my freezer.
To see the D-Backs in action during the spring training season, click here.