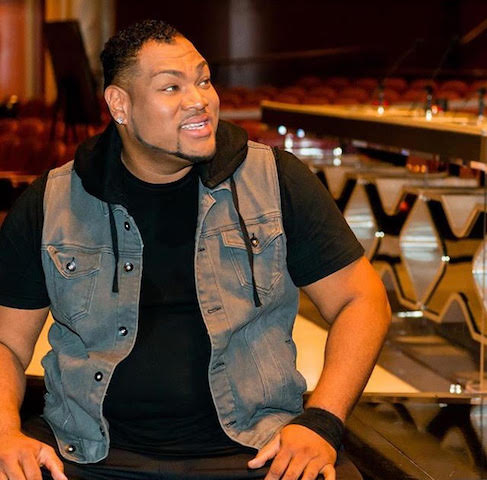 Oscar Hernandez, a coach for the Arizona Rattlers for the past 10 years, blew the audience and judges away with his audition for "America's Got Talent" when performing the hit song "Anaconda" by Nicki Minaj. Choreographing his first routine in the third grade, Hernandez has always had a passion for dance and has been able to turn it into a career immediately after graduating high school. Hernandez was first recognized in a viral video of him dancing during the AZ Rattlers' halftime show. With the video gaining over two million views on YouTube, Hernandez and the AZ Rattlers' Dance team were invited to perform on the "Ellen" show gaining more popularity and recognition. Initially scared to do "America's Got Talent" due to fear of being ridiculed, Hernandez faced it head on and was able to wow America and get approvals from every judge on the show—including the host Tyra Banks. With the "Anaconda" audition video going viral on Youtube—with over a million views—Hernandez was loved and was able to make it all the way to the semi-finals of the show, inspiring viewers all over the country, including his beloved hometown of Phoenix. Hernandez, auditioning and participating on the show, has reminded viewers to never judge a book by its cover. Although he didn't win on the show, Hernandez believes he still won by all the love and support from viewers and most importantly, the way in which he was able to inspire others.
We had a chance to chat with Hernandez all about his childhood, his experience on "America's Got Talent" and what his plans are for the near future.
AFM: How did you get started in dancing? Was it something you always had a passion for?
OH: I started dancing at age of four by my grandmother. We're Polynesian, and my grandmother was this huge choreographer in California. For our tradition, my grandmother used to do all these events: weddings, church events and anything that had to do with dance. I was her little protégé, and I started dancing with her. I then started to get into more hip hop and the American-style dancing from just watching TV.
AFM: What would you watch?
OH: I would watch MTV. I was a big, big fan of Janet Jackson and anything she did. I was like 'oh my gosh' and I would learn it and perfect it and do it over and over.
AFM: Are you still a big Janet fan?
OH: Oh yeah. I'm actually going to be seeing her, this Thursday. I used to be a coach for the Golden State Warriors and I used to run the kids team and one of my kids (who isn't a kid anymore) is one of her back-up dancers, so it's going to be really crazy to see her at the Janet concert. Like, she's going to be dancing for Janet, my idol. It's so crazy!
AFM: How did you get started in choreography?
OH: I ended up trying out for my high school cheer team. My high school cheer team was amazing, and I really liked what they were about. It wasn't so much cheering but more dance— they were more of a spirit line. I actually joined and snuck on after I quit the football [team]. I was like, 'I'm not going to do this anymore,' and I did the cheer thing. Eventually, I got scouted by one of the coaches for the Phoenix Suns. They were like, 'Hey, we like the way you dance, would you be interested in coming out for one of the teams,' and I actually auditioned and from there I've choreographed so many different teams. It hasn't stopped. I'm 34 and that started when I was 17. Being scouted and being able to join the pro teams and then choreographing from there has been great. I did choreograph my junior high team, and we won nationals with my choreography. I am a trophy. Back in 1988, when it all started.
AFM: How long have you been choreographing for the Arizona Rattlers'?
OH: I've been choreographing with them for 10 years, since 2007— wow, that's a long time— and I love them. The whole start of me getting big and people knowing who I am started with the AZ Rattlers. [The video] of me, dressing up as a football player and dancing with them definitely got us on the "Ellen" show. It got a lot of exposure and it was the first viral video, in Arizona, to go crazy. Everyone thought I was a pro football player, and it was just amazing. Also, having them be a part of my AGT experience was so great, and it was so great to have those girls there since they're not only the girls I coach or my teammates, they're actually my friends and it was so cool to experience that with them. Also, a big thanks to the head coach, Angie Baker, and she's been my coach since I was in high school. She's the big reason for my success. She's always motivating me and has basically become my manager. She's always been my rock, my supporter, my everything—she's up there with family. She has been amazing and working with Angie Baker and the AZ Rattlers has been a blessing.
AFM: What about your audition with "America's Got Talent" when you performed Nikki Minaj's song "Anaconda." How did you prepare for that? Was it a routine you already planned?
OH: The crazy part is that they saw me through a video. My boss for the AZ Rattlers let me know and [they reached out to me] saying, 'We're really interested' and [initially] I was not going to do the show. Just for the record, I was not going to do the show. I was so nervous because I thought they were just going to trash me or be like, 'oh, the big guy, let's make fun of him.' I've seen them do stuff like that, and I didn't want that to go for me.
In the process of doing that, they picked all these different songs and ["Anaconda"] was the only song I actually got to pick out of all the routines I did for them. One thing I do remember was just my legs. I really thought I was popping as hard as I could and as I watch that video I laugh every time because I just remember every movement I did and just seeing the faces of everybody and my legs just felt like Jell-o. It was so scary and so nerve racking but at the end, the end result, was probably one of the best. Just seeing people jump up and then Simon! Oh my gosh, when he was like 'yes!' and I got all four 'yeses,' I couldn't believe it. Nobody expected me, no one took me serious at first. No one had saw me dance, they just knew I was going to go out there and perform. Once I did "Anaconda" broke out, I was a different person. I was like, 'turn it on, let's go, we gotta do this for Arizona. This is for everyone back home.'
AFM: Many were sad to see how you didn't advance to the semi-finals. How do you think the experience on the show has changed you and your future in dance?
OH: That question I get asked a lot—by just random people. Once the whole show ended, I was okay with it. Everybody thought I was gonna cry, and I was really shocked that I didn't. I was just happy to even get that far because I was like, 'Wow, there's some amazing talent.' The feedback that I got from people, I kid you not, these people wrote me every day since my "Anaconda" [audition routine]. When "Anaconda" came out, and that episode came out of me, I've been getting so much feedback from people telling me their story of how they're big and they want to dance now and 'I'm auditioning now because of you,' and 'I''m going to do my cheer or dance because of you.' I actually had one football player come up to me in the supermarket and he goes, 'Excuse me, Sir' —and I felt really old—and he goes 'because of you, you made dancing cool for us guys. I'm actually joining the dance team because of you.' And he's a big kid, he's a football player at one of the local high schools.
We went out to a restaurant and my cousins always tease me and they go 'have you seen him? Have you see him?' and the waitress goes 'No, I haven't but we did watch AGT and there was only one person on there that we liked' and I don't know if she realized it was me but my cousin showed a video and asks, 'Was it this guy?' and the lady goes 'Yes, can I take a picture' and she starts crying and she goes, 'My friend has leukemia, and he was so sick that day and drained from the leukemia and when you popped up on stage that was the first time he had smiled in a while.'
The feedback from these people and [them] telling me about their dreams and how I've inspired them is just so crazy because I would never think that. It's just been great and hearing the feedback from them, it's like I've already won. Even though I didn't win on the show, I've already won. I've inspired so many and that's what I was trying to do. I was just trying to go out there, have a good time and hopefully put a smile on people's face. And the ones that I did, it just warmed my heart, so I was good.
AFM: Where do you see yourself in the future (five to 10 years) with dance and choreography?
OH: I see myself traveling more and being international, doing my own shows and choreographing for shows in Vegas and cruise ships. This is not the end for me, this is just the beginning, and Oscar is not going to go away for a while. We're in the works of some big, big stuff coming up— which I can't tell you too much about— and I think people are going to like it and enjoy it. If you liked "Anaconda," you'll definitely like what's coming up next!