Page 1 of 3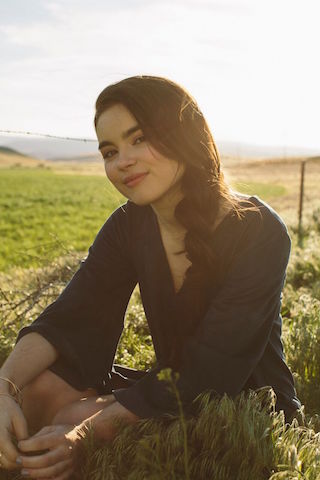 Landry Bender knew when she was just five years old that she wanted to pursue a career in acting—and the dream was achieved by the age of 10. Starring in her first play at Desert Stages Theatre—as a flower in the musical "Peter Pan"—was the first step she encountered on her road to a successful career. At the age of 10, she made her break by starring in the movie "The Sitter," alongside actor Jonah Hill. Since then, she starred in two Disney Channel shows, "Best Friends Whenever" and Disney XD's "Crash and Bernstein." She is currently working on the Netflix reboot show, "Fuller House," where she just became a new addition to the third season.
After finishing a long and busy day on the set of "Fuller House," Bender was able to talk to AFM about her excitement in coming back home to attend the Star-Studded Sunday event put on by her old community theatre, Desert Stages, as well as her life growing up in the industry and how it has shaped her into who she is today.
AFM: You've been in Hollywood since you were 10 years old. Now that you're 17, how has it been so far growing up in the industry?
LB: It's been really great. It's interesting since it has kind of been all that I've known. [My teenage years have been] very interesting since it's all been in this industry. It's incredible, and I wouldn't want it any other way, I've learned so much. I've definitely grown up in a very unique way, and I've known my entire life that I've wanted to do this. The fact that I've gotten the opportunity to do this has been really great.
AFM: How did you get interested in theater? Was it something you were always passionate about?
LB: Yes, absolutely! I did my first play at Desert Stages when I was five years old, and I had seen a play when the Broadway production of "Annie" was at Arizona State University in Tempe. My mom took me when I was five years old and I remember saying, 'Mom, I have to do this!' She responded, 'What? You're five years old, what are you talking about?' Ever since then, I started at Desert Stages, and that's where I found my love for it. It never really went away, it wasn't just a phase. It was something that continued, and I've never stopped loving it, it's amazing.
AFM: Do you remember your first play?
LB: Yes, my first play was "Peter Pan" and I played the role of a flower.
AFM: You're coming back home to attend the Star-Studded Sunday event by Desert Stages Theater, the theater that gave you your start. How do you feel about that?
LB: I'm very excited! I used to visit all the time when I first moved but I haven't been back in a while. It's gonna be very cool to see "Cinderella"—which I was in when I was at the theatre—and all the kids perform. I'm going with two other actors, Asher Dov and Rachel Redleaf, who are friends of mine. It's going to be incredible, especially the fact that it is so full circle and getting to talk to those kids and knowing that they have dreams of wanting to be actors and singers and overall performers. It's really cool to be able to have that whole experience.
AFM: Do you have any advice to give any of the kids you plan on seeing at the Star-Studded Sunday event by Desert Stages?
LB: My advice is that first of all, the industry is full of so much rejection but I think it is also very important that if it's something you really want to do, keep persevering, keep going, and don't let that knock you down. It is also good to make sure that you're in it for the right reasons. I think especially in the day of social media, there is such an urge to want to have a following or live in a big house—ha! Whatever your dreams are, I think the main roots for this business—because there is so much rejection and so many 'nos'— is to really love the art of it because that's what will keep you going and keep you focused.