Page 1 of 5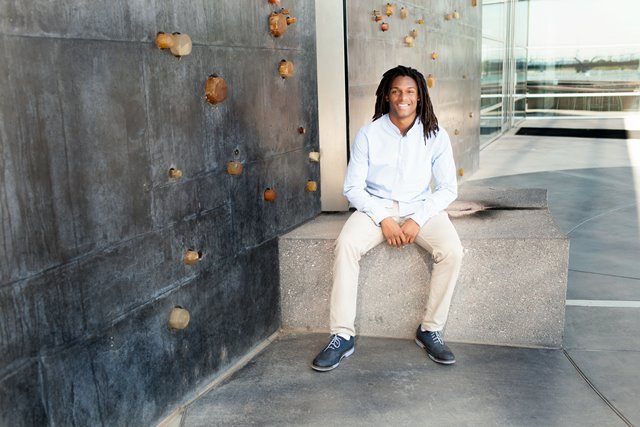 From a Harvard-bound valedictorian to an award-winning singer and actress, these five outstanding Valley students—each with a mile-longlist of accomplishments—shine as bright as the gold stars that deck their report cards.
JOSHUA BENJAMIN 18, 2016 VALEDICTORIAN AT BROPHY COLLEGE PREPARATORY
WHAT DRIVES YOU TO BE A GOOD STUDENT? My parents have always taught me that it is important to give my best no matter whatI am doing. They taught me the importance of education and how it will open doors for me. I was motivated by myself because I knew there are certain things I couldn't do in life if I didn't do well in school, certain colleges that wouldn't be available to me and certain careers after that. It would be in my best interest to make the most out of my high school years and succeed.
HOW HAS BEING A STUDENT AT BROPHY IMPACTED YOU? Exposure to different topics. Brophy is really big on social justice teaching. I went on an immersion trip with the school that was centered around that. I wasn't sure if I would be able to learn about that if I went to another school. The second is technology. They forced us into being big on technology before we got to college. That has helped a lot.
WHAT TEACHER INSPIRES YOU? My English teacher my sophomore and junior years, John Damaso. He really inspired me in two ways. Ialways disliked English as a subject. He showed me it is a lot more than just reading. He showed me it is a lot more than just learning how to speak; it is about learning how to write and communicate. Hehelped me get a better appreciation for learning on my own time.After my class, I did a lot of self-studying—not just reading books fo rEnglish, but math and science and other things. I was inspired to take [education] into my own hands as well.
HOW DO YOU RELATE TO AND DIFFER FROM YOUR PEERS? I feel likeI relate to my peers in a sense that we all have a general interest in doing well in college and trying to make something out of our lives. We all want to accomplish something. A way in which I differ from them, atmy school, is that I am one of not very many African-American students.The difference is not that I am African-American; it is in what I am doing. Instead of it just me acting alone, it is viewed as this is my race in general. So I just have to be more careful about what I do because I am not just representing myself. I noticed that some of my peers don't have to worry about it.
WHY DID YOU CHOOSE TO ATTEND HARVARD IN THE FALL? Two reasons. The schools that it came down to for me were Harvard and MIT. I wanted to continue studying foreign language, and Harvard's foreign language department in the research that I conducted was stronger. It would be in my best interest to go there for undergraduate school, and I also want to go to graduate school for a degree in math and computer science. MIT's math graduate school is the highest ranked in the country, and I wanted to make sure I didn't go to the same graduate school as I went to undergraduate. I decided to go to Harvard, and I will apply for MIT later.
WHAT ARE YOUR CAREER GOALS? I plan to begin a technology company, a startup, that deals with programs and software development and data manipulation.
PHOTO BY CORI ROBERTS