Page 1 of 3
Just as Barrett-Jackson rolls into town this month, we asked the pros for tips on purchasing auction-block beauties, along with five picks for their all-time favorite automobiles.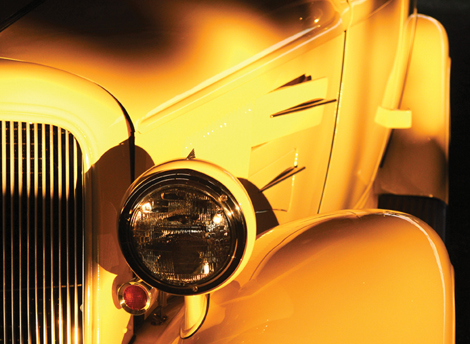 Since the day Barrett-Jackson's "mom-and-pop shop" started in 1967, Craig Jackson, the youngest son of co-founders Russ and Ellen "Nellie" Jackson, has been destined for automotive success. Jackson took the company's driver's seat in 1997, quickly accelerating the small collector car auction business into a $140 million multi-media empire. From the company's first car show in 1967 at Scottsdale Ball Park, "Fiesta de los Auto Elegantes," Barrett-Jackson has grown to include auctions at the Westworld Equestrian Center in Scottsdale (its signature event); the Mandalay Bay Resort and Casino in Las Vegas; and The American Expo Center at South Florida Fairgrounds in Palm Beach. This June 25-27, Barrett-Jackson will bring its "gold standard of car auction" to the Orange County Fairgrounds in California, adding another venue to its yearly auctions and revving the hearts of many "automaniacs."
Born into the family business, Jackson's appreciation for classic cars began at age nine when his father bought him his first car. Witnessing the evolution of the collector car world, Jackson says that vehicle trends remain similar today, but the reasoning for buying a collector car has shifted. "People [still] want the nostalgic look, but [now] also want something dependable where they can go in the garage, fire it up and drive," Jackson says. "For 77 million baby boomers who still relate to the cars of the 50's, 60's and 70's, most want a car they can have fun with. Last year, the 50's-style convertibles were very popular - great for cruising."
While Barrett-Jackson gears up for its 39th annual collector car auction in Scottsdale on Jan. 18-24, Childhelp, a Valley nonprofit, is also putting the finishing touches on its Drive the Dream Gala - a pre-auction partnership event with Barrett-Jackson, which takes place on Jan.16. In addition to the gala, Barrett-Jackson will also auction off three collector cars, with proceeds going to children's charities: a WD40/Sema Cares Camaro to benefit Childhelp and Victory Junction Gang; a Barrett-Jackson Limited Edition Shelby to benefit Cox Charities; and a CDC Challenger to benefit notMYkid.
Click the next button below to read tips on purchasing.