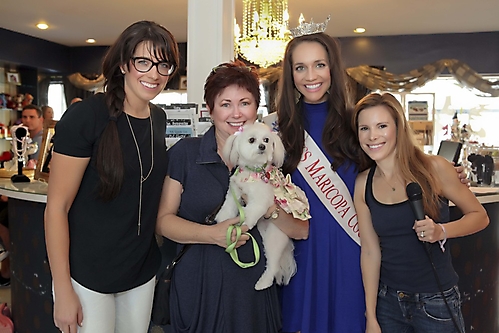 AZ Foothills wrapped up the annual Dog Days of Summer contest with a Yappy Hour Finale PAW-ty this past Sunday at Oh My Dog Boutique in Old Town Scottsdale. After hundreds of entrants from various Valley casting calls and more than thirty days of online voting with thousands of votes cast, the top five finalists from each category arrived at Oh My Dog to battle it out for the title of Top Dog. The adorable pups strutted their stuff on the red carpet runway with their owners in front of friends, family, fans, and a panel of pooch loving judges including Miss Maricopa County 2015.
After much debate, four winners arose victorious. Bogart, a charming little two year old French bulldog, took home the Best Small Dog title. Bella, the sweetest eleven year old Queensland Blue Heeler, won Best Large Dog. Lizzie, a precious two year old Shih Tzu decked out in a sailors outfit complete with hat and inner tube, snagged Best Dressed. The overall winner, by popular decision, was Zoe an absolutely darling five and a half year old poodle mix.
Zoe was found on the streets of South Phoenix in very poor condition, picked up by the county and when no one came to claim her, was put on the euthanasia list. Fortunately, Ruby Ranch Pet Rescue and Sanctuary pulled her card and she was adopted by her forever family. Zoe loves to visit patients at the  Virgin G. Piper Cancer Center, having children read to her at the Mustang Library and playing with her squeaky lobster. Zoe is also very talented and can do tricks like dance, twirl, salute, roll over, ring a tap bell for "order up", jumps through a hula hoop and wave good bye.  She also has a special talent for seeking out those who need  her. Zoe has received the Canine Good Citizenship (AKC) Award, is a Certified Therapy Dog with TD Inc., and has trained through Hospice of the Valley and Pets on Wheels of Scottsdale.
Zoe will be featured in the April Best of Our Valley Issue of Arizona Foothills Magazine and receive $500 dollars which she will be graciously sharing with her rescue, Ruby Ranch Pet Rescue and Sanctuary, her therapy group – Pets on Wheels of Scottsdale and her paralyzed dog friend's group – Mango on a Mission who puts handicapped dogs into doggie wheelchairs. Check Zoe out and give the sweet pup a like on her Facebook page here or her blog here. See more cute photos from the Finale PAW-ty here.