Page 1 of 3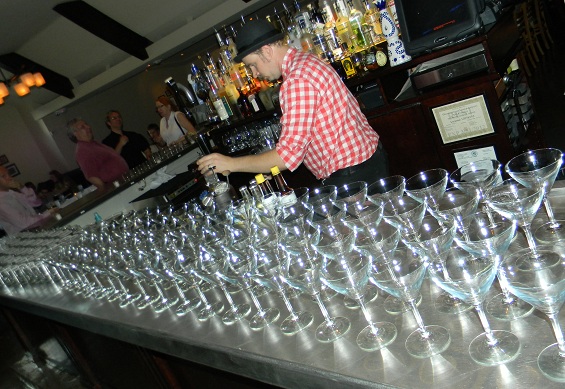 Halloween doesn't have to be just fun for the kids. Each of these events, and so many more offer something for adults to be a part of and enjoy just as much as trick-or-treating for kids. If you've ever need motivation or needed something to do for Halloween, we've got you covered. 
Citizen Public Cocktail Pairing Dinner--Tues., Oct. 30
Aside from the popular, but common pumpkin patches that we are able to visit and pose next to,  Citizen Public House intuitively is taking it to another level by basing a six-course dinner off this powerhouse of a crop--1.5 billion pound of pumpkin are produced each year. 
The dinner includes curried pumpkin soup, pumpkin gnocchi with toasted molasses butter and Gorgonzola, and even a pumpkin waffle that sounds amazingly rich and delicious. With such a creative and tasteful menu, that's scary good, seats are sure to fill quickly. 
Putting the food aside, just momentarily, guests will also be able to decorate miniature pumpkins in between courses and experiment with unique cocktail pairings with each course chosen by Citizen Public House. 
To make reservations (s), call 480.398.4208 and for additional information visit: http://www.citizenpublichouse.com
The Mint's Spook-tacular Halloween Line-up--Oct. 19, 27, 28, and 31
Yelloween, hosted by Veuve Cliquot is the first event of this line-up, followed immediately after happy hour that includes drink specials such as Ultimat Vodka for $5. Tables can sip on an entire bottle of Veuve for price of $50 as continue chilling savings while DJ MCB entertains for the opening night.
The second of four incredibly interesting Halloween events that will take place at Mint of Old Town Scottsdale, Storybook is a themed costume party that encourages guests to dress at their favorite character of a story. If you had childhood ambitions of being little red riding hood, or even superman, it's your chance to bring these characters to life.
DJ Soloman will be casting spells on the turntables all night and the exclusive drink special of the night will be a pumpkin pie and cinnamon whipped cream shooter that will be offered shaken or strained into a glass. 
Sunday is the Industry Halloween party, for those that can't attend Saturday's festivities. But everything is to lead up to the build up of the grand Halloween party takes place on the evening of Halloween and includes distinguished DJ's Gabriel and Dresden. To purchase tickets for the finale, visit: http://www.sletickets.com
For additional information, visit: http://www.themintaz.com
Spooky and Spectacular: Nightmare on Princess Drive--Sat., Oct.27
Previous years have been full of extraordinary and unexpected costumes that have ranged from the Mad Hatter to Flo the Progressive Girl. Moving onto this year, this Haunted Halloween Ball has the theme of "Bride of Frankenstein," that create plenty of new unforgettable costumes. 
The costumes only hint at one transformation though. Arriving guest will have to travel through murky fog on the star-studded black carpet to Stone Rose Lounge moonlit, fire pit patios will be draped with dramatic fabrics and decorated with glowing candelabras and black roses as a parked hearse awaits guests. 
Perfect touches as these live in the details. As music plays throughout the night, concoctions will be made such as Candy Corn Martinis along with several others. A costume [contest] will also take place at midnight that will bring all sorts of awesome prices that even include resort vacations and dinners at Bourbon Steak and La Hacienda. In order to ensure a safe night, the hotel Scottsdale Princess will be offered a spacial room rate of $149.
For additional information, visit: http://www.scottsdaleprincess.com 
Talking Stick Resort Halloween Costume Contest Giveaway--Wed., Oct.31
If there was any type of incentive for you to dress up in the most creative and unique costume, this would definitely be the time. Talking Stick Resort welcomes costumes of the variety to shock and awe audiences and judges, and top five guests with best original costumes will be rewarded a cash prize, while first place will take home $3,000.
Talking Stick Resort employees will be along the panel of judges, and will take place between the hours 7 and 9:30pm. come out and show your best effort, the registration fee is also free, so what's to lose?
For additional information, visit: http://www.talkingstickresort.com