For some Valley residents, sick days no longer entitle getting ready and driving to their doctor's office. Instead, within an hour of their phone call, Doctor Housecalls of Paradise Valley will arrive at their doorstep, workplace or hotel ready to provide the same quality health care you would receive in an Emergency Care facility. With this service, long waits in a cold florescent-lit waiting room is a thing of the past.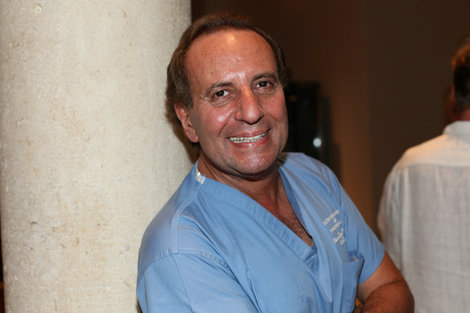 The mobile emergency physician's motto, "peace of mind will be on your way," proves true as the practice brings traditional house calls back and in style. This time, however, the doctor arrives in a luxury four-wheel drive Porsche Cayenne S stocked with every medical supply you would find in an urgent care facility. Once the doctor has arrived, a wide array of services including lab tests, immunizations and treatments of pain and illness can be performed. Doctor Housecalls of Paradise Valley does cater to every age group and also provides bilingual care.
Dr. Steve Lipsky is the mastermind behind this young practice, which was founded in March and hit the road in June. Dr. Lipsky, New York University School of Medicine graduate, is board certified and has punched the clock in every type of Emergency Department in Arizona during the past 35 years. Outside of hospitals he has taught at the Midwestern Arizona College of Osteopathic Medicine-Division of Clinical Education in addition to teaching at Kirksville College of Osteopathic Medicine Arizona. Lipsky has also made a difference overseas. He built and directed Jamaica's first 24-hour freestanding Emergicenter and Advanced Life Support Ambulance service.
In addition to Dr. Lipski, Dr. Douglass Perkins also helps out the practice part time. Dr. Perkins, a University of Arizona graduate, is board certified and has practiced emergency medicine for more than 30 years.
Both Dr. Lipsky and Dr. Perkins have been Paradise Valley residents for more than 25 years. They are knowledgeable of the community and also provide care to local areas including Scottsdale, Arcadia and Biltmore. They also look forward to providing care to tourists at various resorts and hotels in the Valley. These well-established doctors guarantee quality service as well as patient privacy from the comfort of your own home. The doctors are also will to provide as much time that is needed to answer all medical questions that come up from and before your visit. 480.948.0102, www.drhousecallsofpv.com.