If you've traveled to Flagstaff in recent years, there's a good chance you are already familiar with Joe Sorren. The Northern Arizona University graduate and Flagstaff-based artist is responsible for the well-known, much-loved outdoor mural in the town's Heritage Square. Outside of Arizona, Sorren's paintings have been shown in New York and California and have graced the pages of such illustrious publications as Time, The New Yorker and Rolling Stone. Read on as the artist talks about life in Northern Arizona and where we can see his work in the coming months.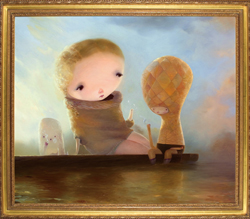 AFM:
What are your favorite things to see and do in Northern Arizona?
JS:
I love to hike and run in the mountains around Flagstaff. You never know what you may bump into on any given day.
AFM:
How does living in Arizona inspire your work?
JS:
Mostly, I'd have to say the quality of the sunlight. It is so crisp and vibrant in Flagstaff.
AFM:
You've been painting for nearly 20 years. How has your work changed in that time?
JS:
Well, I like to focus more on where the boat is headed, rather than its wake. But if I were to look back at it, I'd say the paintings I am making now are a natural progression of something I have been chasing since I started painting.
AFM:
What is the best compliment you have received about your work? 
JS:
'Don't quit your day job.' Seriously. It was a great comment because it helped me fortify my feelings of never giving in—never stopping, no matter what.
AFM:
When you are working on a piece, what is the process like?
JS:
I would guess it takes between 100 and 300 hours per painting, depending on the complexity and what strange corners I paint myself in. Much of my process is about experimenting and adjustment, just trying to stay open to multiple directions and solutions as long as possible.
AFM:
Which artists do you most admire?
JS:
Jim Henson, Marc Chagall, Maxfield Parrish. It depends on the day, I think.
AFM:
What project are you most proud of?
JS:
The one I haven't started yet.
AFM:
Do you have any shows coming up?
JS:
In November, I have my first museum retrospective in Southern California. It's also my first solo show in three years. That same show will then be traveling to Coconino Center for the Arts in Flagstaff just after the new year.