Arizona State University honors student Daniel Guerithault aims to reuse bags, reduce damage to the environment and redeem the earth's beauty with his new campaign.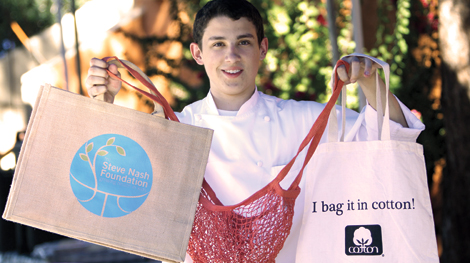 We can't deny the luxury of plastic. It comes in the form of credit cards, accessories, cell phones and more. However, one common usage of plastic proves to be a threat to the environment. Think about it: How often do you pick up groceries? Or make a purchase at the mall? Take-out lunch? The list goes on. And so does the count of plastic bags you've used.
From cotton contamination and the emission of global warming gases to costing 17 cents per bag to dispose, plastic bags can affect our health and the environment. When Daniel Guerithault was a senior at Brophy College Preparatory, he attended a speech campaign regarding environmental issues and was blown away when he learned the different effects of plastic. His determination to help the environment and the community resulted in the birth of the Reuse It campaign in February, which promotes the use of reusable bags.
Starting at his parents' restaurant, Vincent on Camelback in Phoenix, Guerithault now sells cotton bags at Vincent's Camelback Market each Saturday from 9 a.m. to 1 p.m. via his How Do YOU Say Bag booth. And with the support of the Steve Nash Foundation, which provides the reusable bags that are sold, this ambitious student continues to educate the public on the usage of plastic and the better option of switching to reusable bags.
Working at Camelback Market for years has made Guerithault aware of the high usage of plastic bags. Guerithault realizes that they are convenient, cheap to make and very durable, but he says people don't necessarily think about the damage that can be caused. "You go to the grocery store, you use a bunch of plastic bags and you throw them away not thinking much about it, and that's why I want to bring awareness and attention to others to inform them about the dangers," Guerithault says.
One danger is that plastic tends to linger on the earth for a long time. Guerithault says that excessive usage of plastic and its improper disposal affects the cotton industry. Winds blow plastic bags into cotton fields, and they are difficult to separate from the cotton because the work is done with machinery. The plastic mixed with cotton will result in clothing, sheets and towels with black spots that won't be able to be sold.
Guerithault, a mechanical engineering major with an energy and environment emphasis at Arizona State University, plans on starting out small with his campaign and is hopeful that it will grow bigger with all the support he can get. Currently, he manages to sell an average of 10 reusable shopping bags each Saturday. "A lot of people [don't understand why they should] use a reusable bag when they can just use a plastic bag, so it's a big challenge to convince people to do this," Guerithault says. Though it may be a challenge, Guerithault's goal is to get more reusable bags into stores as well as continue with his campaign to keep plastic pollution out of Phoenix.
TAKE NOTE:
Valley residents can support Daniel Guerithault and his passion for the environment by purchasing a reusable bag from Vincent's Camelback Market. All proceeds benefit Educare Arizona and The Steve Nash Foundation. www.howdoyousaybag.org.