For many children, a park bench will be their bed tonight—but not if UMOM New Day Centers has anything to say about it.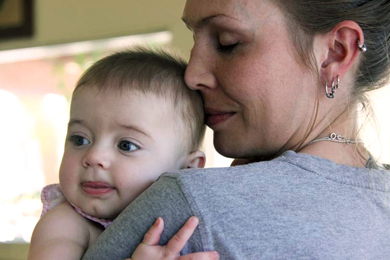 Since 1964, UMOM New Day Centers in Phoenix has provided long-term solutions that local homeless and low-income families need to change their lives for the better. Today, the nonprofit has become the largest homeless shelter for families in Arizona. With a campus full of different types of housing, families can be assisted as they move through the stages of becoming self-sufficient.
Since the recession began, UMOM has seen an increase in demand for their services. "Our waiting list has doubled—our waiting list is now at 90 families," says Darlene Newsom, C.E.O. of UMOM. "Some of the people on the waiting list are as a result of the economy and as a result of the current situation that Arizona is in. But some of our families ended up homeless because of perhaps a domestic violence issue. It could be they lost their job. It could be a lot of different reasons."
In order to break the cycle of homelessness, the organization has to do more than provide the basic essentials. At UMOM, families are given the chance to make themselves at home. Upon arriving at UMOM, they go to the Emergency Shelter where they start their program and can stay for up to 120 days in their own apartments. As they live in their new homes and carry on into Transitional Housing, parents are given a chance to turn their lives around by either focusing on their sobriety or working to get an education and, eventually, a job. Once they have transitioned through the shelter programs, families move into Next Step Housing where they must have income, be in school or enrolled in a training program. During their first year here, UMOM checks in to make sure they are still on track for independent living.
While the adults work at getting back on their feet, children up to the age of five are cared for in the Childcare Center where they can learn and play with other children in similar situations. Walking into the 3-year-olds' room, many people wouldn't realize it was any different from a regular daycare facility as a throng of tiny tots charge the door looking for hugs and high-fives. The staff conducts developmental assessments to determine the needs of each child. As well as teaching them to read and take care of their hygiene, they are also given lunch and snacks. UMOM tries to keep older kids on the right path as well with the Teenage Activity Program. Since many of the families have gone through traumatic experiences to get to this point, UMOM also offers another level of support through crisis counseling and case management. There is also a domestic violence shelter specifically for women and children to find safety while trying to move past their experiences with abuse.
In 2005, the organization began construction on new facilities by renovating hotels across the street from their original location in the Sands Hotel. With $19 million dollars raised, families were able to move into this new housing in October of last year. With this new housing came more room for accommodations, a wellness center and several other amenities that were unavailable before.
Now, UMOM is working on adding more housing; groundbreaking on a new building was in late January. Eighty more one-, two- and three-bedroom apartments will be
available and include covered parking spaces, just like a regular apartment complex. However, the organization has $4 million left to raise before finishing the facilities that will bring better lives to the formerly homeless of Phoenix. "We're a lot more than a shelter," Newsom says. "If someone wants to change their lives, UMOM is a good place to come."
TO LEARN MORE:
UMOM New Day Centers
,
www.umom.org
.