When McCormick Ranch debuted a half century ago as Scottsdale's first master-planned community, some traditionalists decried the concept, saying it would destroy the city's "Old West" branding, explains Linda Milhaven, a 33-year resident and three-term council member.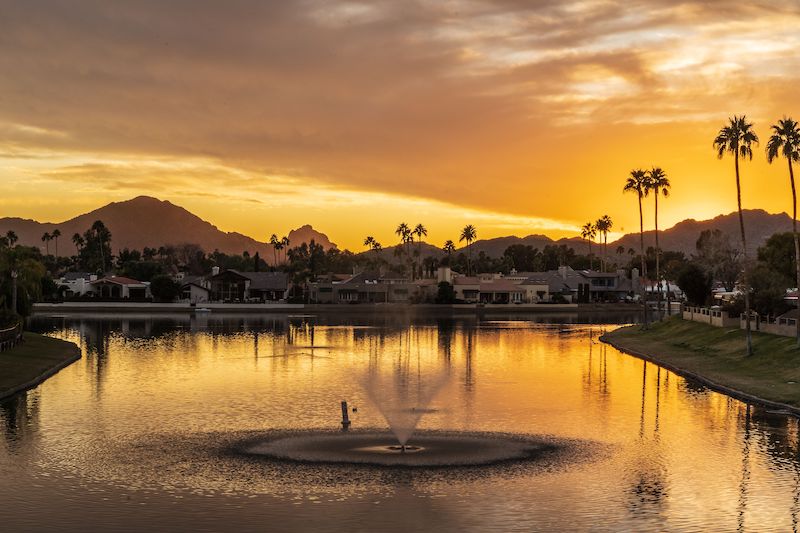 Golden anniversary sunset at McCormick Ranch
Photo: Courtesy of McCormick Ranch Owners' Association
Instead, it became a harbinger of what the city has become, an exemplar of a New West community. The 3,116-acre community comprises seven square miles from Indian Bend Road north to Shea Boulevard and Scottsdale Road east to Hayden Road.
In its golden year, McCormick Ranch is reshaping itself for 24,000 residents, many of them Millenials and Gen Z-ers who want the same lifestyle their Greatest Generation and Babyboomer predecessors wanted: stylish homes where they could raise families; greenbelt spaces, lakes and golfing; and proximity to shopping, medical, dining and other services.
In 1943, Chicagoans Anne "Fifi" Potter Stillman McCormick and husband, Fowler, president of International Harvester and grandson of Cyrus McCormick, inventor of the mechanical reaper, and financier John D. Rockefeller purchased the acreage, including the site of today's McCormick-Stillman Railroad Park.
When the developer, Kaiser-Aetna, acquired the land in 1969, it was the largest piece of property ever sold for a planned community in Scottsdale. The architectural style was Southern California Mission Viejo, which the community remains committed to, while welcoming appropriate renovations.
"McCormick Ranch has always been a great place to live," says Milhaven. "The quiet streets, bike paths and parks make it the perfect place for families and for people of all ages. The neighborhoods have a natural ebb and flow. As children grow and move on, many empty nesters choose to stay in the neighborhood. Now, as some of the older residents move on, they are being replaced with young families."
One couple, Drew and Ilyssa Reading, moved to a single-family home in McCormick Ranch in June 2021. They met at the University of Arizona in 2009, married in 2015 and have two children, Kate, almost 5 and Oliver, almost 3. They lived in the Arcadia area of Phoenix for seven years prior. She is a mental health counselor; he's a project engineer for a construction company.
He grew up in McCormick Ranch, and they have family in the area. "We loved living in Arcadia but were drawn to this area because of the slightly lower home prices (at least at the time) and access to quality public schools," she explains. "The neighborhoods are clean and safe, and living in a neighborhood with a strong sense of community as well as easy access to biking/running paths, restaurants and parks has always been important to us. McCormick Ranch feels like the ideal place to raise a family, and more and more families seem to be moving in every year."
Younger folks are establishing businesses here, too. Mike Mikolajczyk's Whole Health Personal Training opened in March 2022 at the Mountain View Shopping Center at Hayden and Mountain View roads. The studio provides one-on-one personal training for 30–60 minute sessions and 60-minute small-group fitness classes combining strength training and cardio. He is also an exercise nutrition coach.
"My goal is to help my clients become a healthier and stronger version of themselves and be a pillar in my community," says Mikolajczyk, who moved with his family to Arizona when he was 8, attended Desert Mountain High School, graduated from The University of Arizona and worked at a leading sports physical therapy clinic for three years. He is also a certified coach in strength and conditioning and exercise nutrition.
For three months, he and his dad gutted the 1,000-square-foot space, renovated it and installed the exercise equipment: "It was a lot of blood, sweat and tears, but everything has been going great since then!"
He chose McCormick Ranch because, in addition to its shops and restaurants and proximity to his home, many clients also live nearby. "McCormick Ranch has everything for young folk to grow and set their roots," he says, noting that in June he and his wife, Stephanie, are expecting their first child.
This feature is from our special edition IN AZ 2023 issue. Read the full issue online here for more inside intel on where to stay, dine and everything in between IN AZ this sporting event season.