Guest post by Katie Ellering
According to the Federal Highway Administration Research and Technology, each year in the U.S., an estimated one to two million collisions occur between motor vehicles and large animals. Here are ways you can help protect wildlife, yourself and others.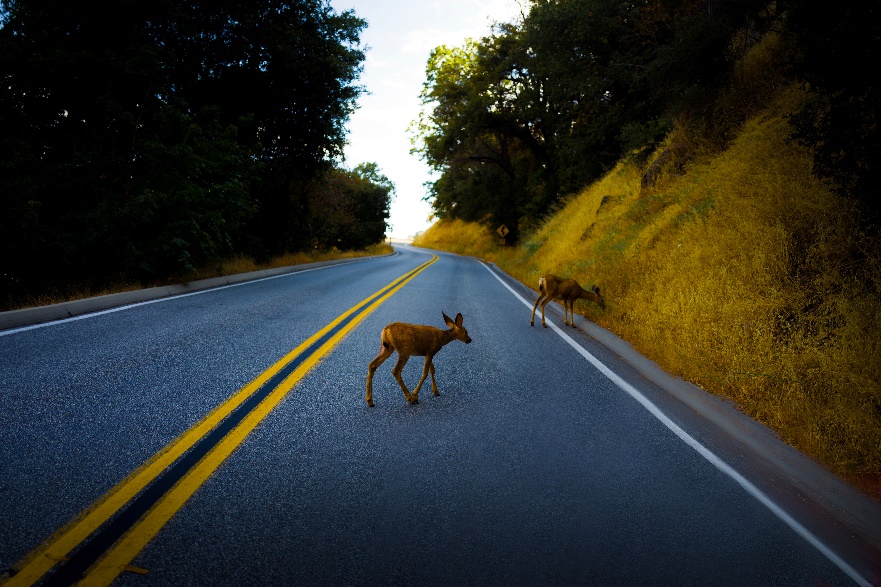 These accidents cause about 200 human deaths and 26,000 injuries.* Unfortunately, these statistics do not even include accidents that go unreported. It's important to be vigilant when driving through areas heavily trafficked by animals.
Reduce your risk of animal accidents through cautious driving
Prevent harm to wildlife on the road by driving as safely as possible. Go the speed limit and keep your eyes on the road to prevent accidents before they happen. Dusk and dawn are high traffic times for animals, so be extra cautious of your surroundings during these hours. If you are on a busier road and there are cars in front of you, don't tailgate. This will give each vehicle enough time to stop if an animal begins to cross the street. Finally, if the road allows, use the center lane. Doing so will give you enough time to get over into another lane if needed.
Call for assistance
Even if you follow all the safe driving tips above, animal related accidents can still occur. If you hit any wildlife, notify the police, especially if it is larger. Bigger creatures can block the roadway and make it hazardous to other drivers. After alerting the police, call the local animal control agency and let them know your exact location so that they can aid the injured animal. If you are unable to find a number, dial 9-1-1 and ask to be directed. Finally, reach out to your insurance company if your car is damaged to find out if you have comprehensive coverage.
Safely assess the situation
If you hit an animal, remain calm and pull over to the side of the road if possible. Even if it is daytime, turn on your hazard lights so that you're visible to other drivers. If you collide with wildlife that may be considered dangerous, call animal control, and do not approach it as this may pose a risk to your safety. If emergency services are on the way, do not try to assist the injured creature. Professionals know how to take care of them without posing greater harm, so simply wait inside your car until help arrives. If you hit an animal on a busy highway or an interstate, do not stop and try to help as it may be unsafe. Instead, you can make note of the location and report the incident later. If possible, take photos of the damage to your car as well as the scene and retain them for your records.
If the critter you hit is hurt but not killed, try to avoid approaching it. Wounded wildlife can be unpredictable and could inflict harm. If you can safely get near the animal, inspect it for obvious injuries but do not try to fix them; its best chance for survival is being treated by professionals.
Wildlife-vehicle collisions are dangerous to humans and animals alike. Everyone can do their part to protect themselves and others from these accidents. Slow down, stay alert and call for help. These steps are key to saving lives.
*Source: https://www.fhwa.dot.gov/publications/research/safety/08034/exec.cfm
About Katie Ellering and Tortilla Flat
Katie Ellering is the owner and self-appointed mayor of Tortilla Flat. Tortilla Flat is a piece of Arizona's western history nestled in the Superstition Mountains. It is one of Arizona's most historic sites that was first established as a stop along the Apache Trail and as a settlement for workers who hand-built the Roosevelt Dam. In many ways, the small town has played a part in helping Phoenix grow with its critical role in providing water for the growing metropolis. In the winter, Tortilla Flat has live music on the patio and you can enjoy a drink and delicious food from the Tortilla Flat Restaurant & Saloon. For more information about Tortilla Flat, please visit tortillaflataz.com.