Congratulations to the Walter Cronkite School of Journalism and Mass Communication students who won the Society of Professional Journalism's most prestigious Mark of Excellence Awards. To those who won—and all those who competed—these awards celebrate your work excellence at Arizona State University.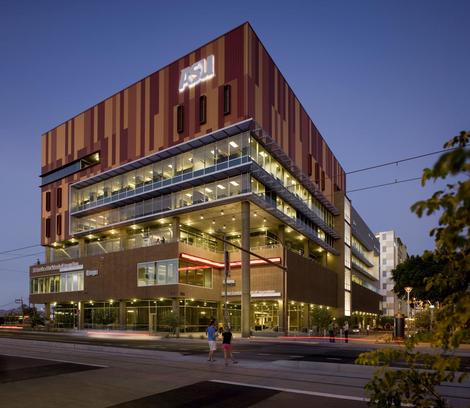 Cronkite School
Each year the Society of Professional Journalism (SPJ) goes in search of the best and brightest journalists in an intercollegiate news contest that recognizes aspiring college journalists from across the country. Categories include print, radio, television and online journalism. The list of contestants is long and the contest is grueling. This year's first-place regional winners will be recognized at the 2010 SPJ Convention & National Journalism Conference in Las Vegas this fall. "It's gratifying to see them do so well year after year. And it's especially gratifying to see them perform so well across all platforms—in broadcast, print and online," says Cronkite Dean Christopher Callahan. (Arizona Foothills Magazine's Fall 2008 editorial intern Stephanie Riel took second place in the 2009 Regional SPJ Contest for Online News Reporting: "Living on the Line: Border Fence is Boon to Some, Bother to Others.")
The Walter Cronkite School of Journalism and Mass Communication, an independent college of Arizona State University since 2005, has won more SPJ awards each year than any other school for the fifth consecutive year in a row. Since the school's 1984 debut, in which it honors "CBS Evening News" anchor Walter Cronkite by bearing his name, has grown in popularity. In 2006, Cronkite broke ground on the school's new state-of-the-art Downtown Phoenix Campus, but never returned to see its completion due to his failing health.
In August 2008, the Cronkite school opened its Downtown campus. It also added several award-winning journalists and world-class scholars to its faculty including former Sacramento Bee Executive Editor Rick Rodriguez and Former CNN anchor Aaron Brown. Not to mention several new programs. The school launched the Cronkite News Service reporting bureau, where students get first-hand experience reporting, writing and working under tight deadlines for several media outlets throughout Arizona; started the New Media Innovation Lab and the Knight Center for Digital Lab Entrepreneurship; and opened the Donald W. Reynolds National Center for Business Journalism.
Since its move, the school is focusing on turning its award-winning weekly newscast, ASU News Watch, into a daily show; has partnered with ABC, allowing top-performing Cronkite students the ability to appear on national ABC programs; and is the headquarters for Carnegie-Knight News21, an experimental digital media program among 12 of the nation's leading universities. Upon graduating, students will be fully able to embark on careers as reporters, editors, producers, correspondents, anchors, media managers and public relation specials.
In July 2009, Walter Cronkite died. For those students fortunate to meet "the most trusted man in America"—and those who learn of him through photographs, basement tapes and newspaper clippings—the school (and its students) was nothing less than remarkable to him. "And that's the way it is," according to Cronkite.
For more information about the 2009 SPJ Contest winners visit, http://cronkite.asu.edu/node/892.