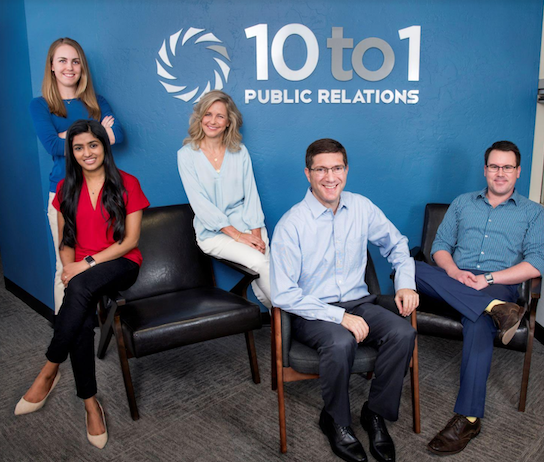 Strategic communications firm, 10 to 1 Public Relations, is proud to announce it has been named a finalist for the 2020 BBB Torch Awards for Ethics. The annual program from the Better Business Bureau Serving the Pacific Southwest (BBB) raises awareness in marketplace ethics and honors businesses that operate with integrity.
"The Better Business Bureau has a well-earned a reputation of trust among the public that can't be ignored, and for the BBB to recognize our team as a finalist for this year's Torch Awards for Ethics is extremely humbling and gratifying," said Josh Weiss, President of 10 to 1 Public Relations. "As an industry, public relations is often portrayed as spinning the truth for short-term gain. Hopefully, this honor from the BBB breaks some of those negative perceptions and highlights the transparency and honesty that the 10 to 1 team embodies every day with clients and the members of the media."
The BBB Torch Awards for Ethics were established to recognize outstanding businesses that maintain a solid commitment to ethics and trust in the marketplace. 10 to 1 Public Relations was selected by an independent panel of volunteer community leaders based on the company's commitment to ethics in leadership, communication, team management, and community service, among others.
"Ethics play a vital role in the success of a business, especially during a pandemic. For 18 years, BBB has been recognizing companies for their solid commitment to doing things right in their companies and industries," said Shelley Bradley, Director of Signature Events for BBB Serving the Pacific Southwest. "This year's finalists represent BBB's community of trustworthy businesses that operate with integrity at the forefront."
Weiss congratulates all the finalists in this year's awards, especially the small businesses category which includes Commercial Property Connect and Nelson Estate Jewelers. The BBB shared videos of all three finalists on BBB's social media channels to kick off a visual digital campaign celebrating finalists and judges throughout the month of October.
A complete list of finalists has been posted to the BBB's website, where winners will be announced on October 28. This year's Torch Awards for Ethics is sponsored by Desert Financial Credit Union.
This is the second honor presented to 10 to 1 Public Relations during the month of September, as the company was also named the 2020 PR Agency of the Year from the Phoenix Chapter of the Public Relations Society of America.
To learn more about 10 to 1 Public Relations: https://10to1pr.com/
Watch BBB's video about 10 to 1 Public Relations: https://www.youtube.com/watch?v=tRRMuAityOE
About 10 to 1 Public Relations:
Scottsdale, Arizona-based 10 to 1 Public Relations is a strategic public relations firm focused on developing and implementing strategies that grow and maintain the positive awareness and reputation of its clients. Launched in 2012, 10 to 1 Public Relations' philosophy is that it takes 10 good things to be said about a company to make up for one bad. Since it's only a matter of time before a negative comment (true or false) is made, it's essential to build up a company's "good will bank" to protect its long-term image and reputation. This philosophy led to the company's name.
The sole Arizona member of the IPREX Global Communication Platform of more than 65 Independent PR agencies across the globe, its clients include Rosendin, Plexus Worldwide, FirstBank, Title Alliance, Phamatech, Runbeck Election Services, and more. For more information visit: 10to1pr.com.
About Better Business Bureau Serving Pacific Southwest
For more than 100 years, Better Business Bureau (BBB) has been helping people find businesses and charities they can trust. In 2019, people turned to BBB more than 358 million times by checking more than 232 million business profiles - all available to the public for free at bbb.org. Incorporated locally in 1938, BBB Serving the Pacific Southwest covers Greater Arizona and Southern California with key campuses in Phoenix, San Diego, Newport Beach, Prescott, Yuma and Lake Havasu City. BBB Serving the Pacific Southwest is supported by over 19,000 BBB Accredited Businesses, making it one of the largest BBB nationwide. Businesses that earn BBB Accreditation contractually agree and adhere to high standards of ethical business practices in the marketplace. BBB provides objective expertise and educational programs on topics affecting marketplace trust.